Event/Activities
Winter Carnival-2019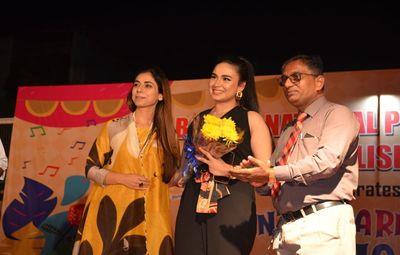 The school turned into a mini 'Fun City' where all the parents, teachers, students and the Principal of Bharat National Public School enjoyed a lot. The Winter Carnival organized by the school lifted the enthusiasm of students to the top level where they participated, managed, learned and to the most important enjoyed with their friends.
90TH YEAR OF CBSE FOUNDATION DAY PROGRAMME 2019!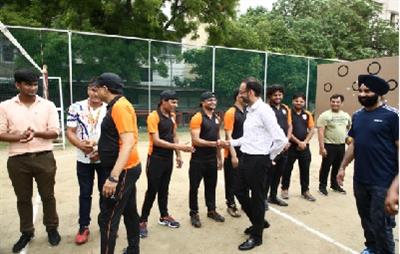 BNPS was privileged to host the Three – Day CBSE Foundation Day celebrations (26-28 July, 2019). Some of the main events held within the premises of the school, organized for the CBSE officials and staff were – Kabbadi, Volleyball, Cricket, Badminton, Table-Tennis, Athletics, Swimming, Song and Dance, headed by Dr. Manjit Singh, Deputy Director, Academics & Sports.
Bharat National Public School was honored by the visit of honorable CBSE officials, Dr. Sanyam Bhardwaj, Controller of Examinations, CBSE, Shri. Anthriksh Johri, Director IT, CBSE, Shri. J.P. Chaturvedi, Deputy Secretary, Admin and Legal, CBSE, Shri. Piyush Sharma, Joint Secretary, Affiliation, Shri Giriraj Garg, Chief Vigilance Officer, CBSE, for the inauguration of the event.
INVESTITURE CEREMONY 2019 AT BNPS!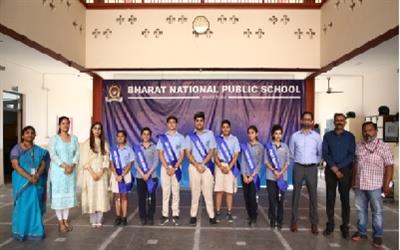 With the Election fever gripping the nation in the four corners of the country, and as the run-up for the Prime Ministerial candidature reaches the feverish pitch, here at the BNPS campus, the scene was similar!
After the herculean task of nomination, campaigning and selection, the process to democratically elect the Student Council came to a resounding culmination! The students were engaged enthusiastically in voting for their favorite students to contest for the various posts. Unlike the past, when the Headboy/Headgirl" were selected, this time the Election process was more democratic in nature and transparent, making the children more sensitive and responsible! The entire process involved training and nurturing the students to take up responsibilities as efficient, future leaders!
Annual Event at Bharat National Public School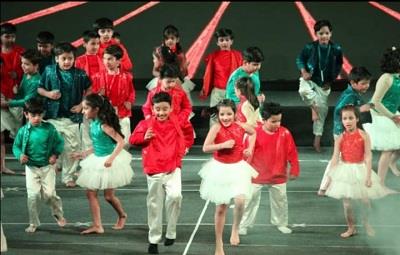 On 24th November, Bharat National Public School was filled with enthusiasm and talent as on this day the Annual Event was held in Yamuna Sports Complex and the theme was 'HARMONY' which means peace and happy surroundings without any conflicts.This event was filled with many joyful performances by class 6th -12th students.
This event was started by introducing the stars of BNPS, the toppers of class 10th and class 12th Board Examinations, moreover achievements of students made by children in 2017-18 were also showcased. After that to give a harmonious start to the event there was lamp lightning by Mr. Kanwaljit Khungar (The Principal), Mrs.Pashmina Ma'am (The School Coordinator)and Mrs.Arti ma'am (Principa l- HES), with shlok sung by Priya Ma'am and. after this beautiful start the stage got on fire with quawali "Duma dum mastkalandar " by students of Priya ma'am and Vinay Sir. After this mesmerizing qawali the orchestra group took over the stage and made their place in everyone's heart with their fantastic performances.
The beauty of the event was increased by the chief guest Mr. JP Sharma who was also honoured by the Principal Sir. Then one of the most important things that is the new website of BNPS was launched by our respected Principal Sir in addition to this he also told about the solar panels introduced in school.
The play - " Toba tek singh " Took over the stage and gave a killing performance which looked as if we were not seeing an act but we are present at that place. After their superb performance there was an energetic dance on song dilbaro.
Now the most awaited moment took place and that was the "Fashion show based on the themes - vintage, fairytale and mismatch. Along with fashion show dance performances were taking place in between which made the audience more enthusiastic and joyful. Then came the most important part of the event for which class 12th students put their heart and soul to win this tag and the tag is of Mr. and Ms. BNPS, in which Mr. Jugraj Singh Sidhu and Ms. Rishita were the ones who were fortunate enough to win the titles. Along with these tags there were many more tags like - best attire, best walk, etc which were given to some children from each theme.
This event is nothing without volunteers, staff members teachers and students so in the end all of them were appreciated and thanked for their efforts to have made the event smooth and memorable.
Therefore this event won everyone's heart and brought Harmony and enthusiasm in everyone's life
EXHIBITION - EXHIBIT + CREATION = ART EXHIBTION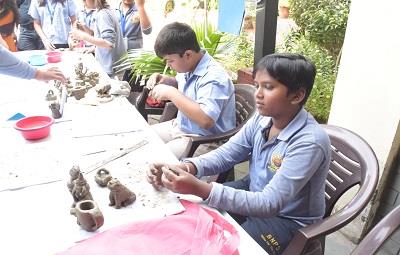 "Not marble, nor the guided monuments
Of princes, shall outlive this powerful rhyme."
It is beautifully expressed by William Shakespeare that neither marble nor monuments, nothing will sustain but his work of art.Any form of art is eternal that lives forever in the hearts of people . Similar masterly works made by the budding artists of our school were seen on 6th October.Their hard work was wonderfully presented by the art department which effortlessly enhanced its beauty.
Starting from the funky umbrellas with hanging monkey faces, masks, butterflies made out of waste material to all the paintings, sketches as well as things made up of clay, turned the whole reception into an art gallery. Who could have thought the newspapers which we throw without giving a second thought can be turned into stylish bags or a Jamini Roy's painting could be made out of the vest. Each and every piece of work spoke its own language and the reason for its existence.It was difficult for the parents, teachers and students to miss even a single thing since it was so divine. A performer is nothing without an enthusiastic audience.This stood true when the tiny-tots were enthusiastically gazing at the displayed works.Not even a single corner of the reception was left blank.Every student was eagerly looking for his/her artwork out of all the masterpieces. And the joy after finding it touched the sky. This exhibition not only motivated everyone to bring out the artists in them but also enlightened everybody's heart with its colourful vibes!
BNPS holds its 5th Annual Inter House Athletics Carnival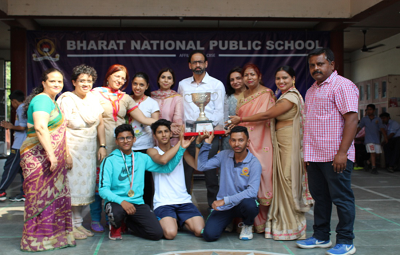 The much awaited 5th Annual Inter House Athletics Carnival was held on Saturday 13th October 2018, with great zeal, excitement and frolicsome atmosphere. The program began with the H.E.S. Principal Ms. Aarti Khungar welcoming the esteemed gathering and emphasized on the importance of sports in a child's life. Approximately 150 students participated in the customized and fun-filled track and field events after conducting trials of more than 1000 students. The students entered into the spirit of the occasion in a grand way.Students of classes 6 to 10 competed in events including sprints, relays, long jump and shot put.As the budding athletes of B.N.P.S. ran for the finishing line, the school campus reverberated with enthusiastic cheers from the spectators. Many new records were made in 100 meters and 200 meters races.Once the races began, the air was filled with cheering and tons of encouragement for the young athletes.Fun time with a Hope Foundation an N.G.O. students 100 mts. race added to the enjoyment.The Chief Guest, in her address lauded the Athletics Carnival event and stated that it was perfect and that he could gauge the pains and efforts taken by teachers and students for such flawless presentation. She congratulated the Principal and the entire team for the event.The young achievers were awarded with the medals Gold, Silver and Bronze by the chief guest Ms. Nirmala Rani (S.P.E. Zone 01) and Guest of Honour Dr. Lalita (Sports Secretary, Zone 01) who highly appreciated each sports star and applauded the visionary element of the school which nurture and develops their potential in the sports field.The Best Athlete Boy of Sub Junior Category for classes VI - VIII was NishchayPaltaof class VIII – B, Fire House and the Best Athlete Girl was Shruti Saini of class VIII-C, Fire House.The Best Athlete Boy of the Junior Category for classes IX & X was Pratyush Chandra of class X- A, Water House and the Best Athlete Girl was Tisha Khurana of X- D, Space House.The Best Overall Championship trophy was awarded to the WaterHouse by KanwaljeetKhungar, the Principal.The program was co-ordinated and compered by Mrs. Harsha Gupta, Incharge Activities, Sarvpriya of Middle Wing and the smart student anchors were Vasnh Sharma and Nishank Goel. The Vote of thanks was proposed by Mr. Ravi Raj, Co-ordinator-P.E. & Sports. The Carnival saw its culmination with the National Anthem.
Book Fair - Bharat National Public School - 2018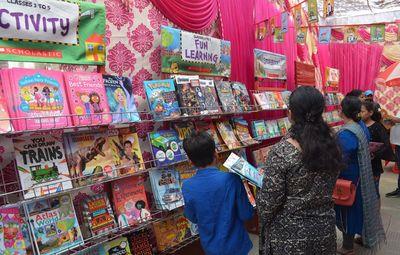 All of us must have read so many books and truly, we always feel a thrill course through our body whenever we get something new and exciting to read. It is as if the words are breathing a new life into us, making us much more than a person of flesh and blood. At each reading, it feels as if we have explored a new world.
Books are a great source of information, and all the knowledge contained in the books can be suitably utilized by those students, who develop the habit of reading the books from the childhood level itself. Just that's the reason our school has a specific reading department. To promote the reading variety of books amongst the students, the reading department organizes a Book Fair every year.
This year too we had spared no effort to make Book Fair a successful event in our school, showcasing a huge range of books covering various genres ,children literature, as well as music, magic, calligraphy, hobbies, etc. Not only the students, even their parents had also taken too much interest in the Book Fair.
The Book fair was held on 1st to 6th of October in the School's auditorium and was welcomed with a huge enthusiasm by one and all. Students of classes 2nd to 8th were allotted one period to visit the book fair along with their reading teachers. It covered all the major genres like mystery, adventure, historical etc. and had freshly brewed content.
There were many attractions such as lucky draws, classroom challenges, complimentary gifts, etc. The level of energy and excitement was at the rim of the bucket. The Final day of the book fair was held on the PTM day in order to make the children come along with their parents to purchase the books and it was culminated by a workshop for the parents of pre-primary grades wherein Ms. Ira Sehgal discussed how to inculcate reading habits in budding learners.
It was indeed a happening event at the school premises to encourage children to explore their interests in different books. Facilitators from other departments also visited the book fair. Both the students and the organizers were quite happy and contented. Such initiatives that are taken every year are literally bringing a healthy and a positive change in the lives of the students and making them achieve the zenith of success.
Teachers' Day Message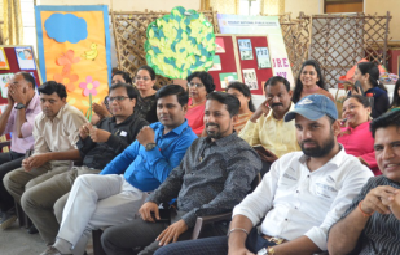 Dear All,
A very Happy Teachers' Day to you . I missed meeting and greeting you in person for some very urgent reason. Therefore i'm sending my "Teachers' Day message" in writing.
As a member in BNPS/HES one thing i would like to say to all of you is to live not only from your intellect here but from your heart as well. To live happy is as important as to be dutiful for a teacher. We are ordained to influence the lives of others and it starts from ourselves.
The easier way to remain happy is to create and stay in a positive environment. So lets all strive to make our space here vibrant and positive.Simple action steps could be
- Starting the day by hugging/shaking hands with our colleagues
- Asking students to share something good that happened a day before, as first thing in the morning.
- Sharing success stories of your class/students with your peer group.
- Discussing any troubling issue with the concerned person only.
- Maintaining a culture of open mind and open discussion every day.
- Remaining hopeful despite odds.Trust that everything passes...values stay.
And i invite you to add many more in the list......
Wish you all a very Happy Teachers' Day once again. I watched videos of your scintillating performances of today's celeberations. Enjoyed that a lot.
You all are special and deserve respectful treatment always.
With deep reverence for all who chose to be teachers
Fellow teacher
Kanwal
Indepedence Day Celebrations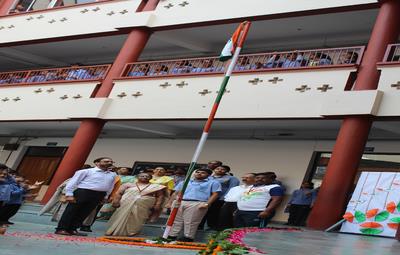 "Mother, I bow to thee! Rich with thy hurrying streams, Bright with orchard gleams, Cool with thy winds of delight, Green fields waving, Mother of might, Mother free. Glory of moonlight dreams, Over thy branches and lordly streams, Clad in thy blossoming trees, Mother, giver of ease, Laughing low and sweet! Mother I kiss thy feet, Speaker sweet and low! Mother, to thee I bow."
– Bankim Chandra Chaterjee
BNPS, a place where each bud blooms in its true colors
Where each day is celebration of unity, harmony and synthesis. However 14th August was more special as we celebrated our Independence Day in advance.
Just like every year this year too the stage was set and our family was ready to celebrate this day, to salute every freedom fighter, who won this freedom and every soldier, who's kept it alive all these years.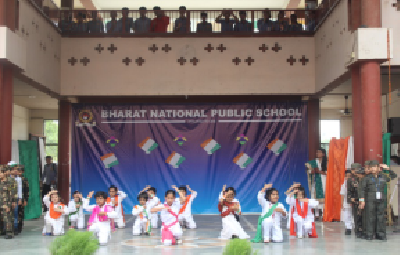 The flow of the day-
08:05-08:10 Prayer
08:10-08:20 flag Hoisting and National Anthem
08:20-08:25 Orchestra Performance by Music Club students
08:25-08:30 A Sanskrit song by 8th Class students
08:30-09:00 Play by Theatre Club students
09:00-09:05 Dance by Bollywood Dance Club students
09:05-09:10 Dance by Pre-Primary wing Students
09:15 Dispersal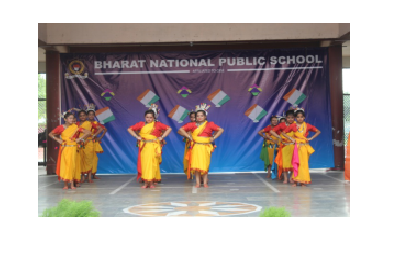 Class teachers accompanied their classes to the places allotted to them.
Senior wing teachers to take charge on 3rd floor, Middle wing teahgers to take charge of 1st and 2nd floor and Primary Wing teachers to take charge of Mid Field. Sports teachers and Student Volunteers along with the Prefectorial Board members were stationed on every floor, to support them.
Teachers in the midfield were requested to make students sit in the manner they take minimum space.
Lets not take our Independence for granted,
Lets do out bit to make India a better place,
Legacy to live & legacy to die for.
Let freedom never perish in our hands.
Happy Independence Day in advance!!
Career Counseling Workshop at Siri Fort Auditorium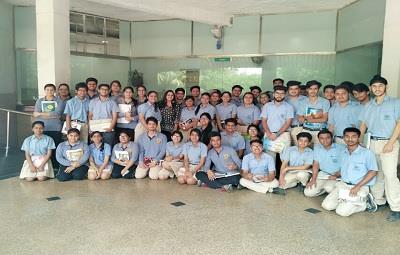 A career counseling workshop was organized for class XII students at Siri Fort Auditorium on 19th April by Dr. Aruna Broota and Jitin Chawla. The objective was to help students understand Career Planning process for themselves. This took place through sharing the misconceptions about Delhi University and exploring new institutions like Ambedkar University, IIT Madras, and FLAME, Pune. The other part of the workshop was covering areas like Time Management, importance of handling exam stress, and strategies to stay motivated. All in all, this student meet was a morale boost for the children.
By: Ms. Arush Ralli (Psychology – teacher)
Appreciative Inquiry Summit For "Our Organization" FOCUS 2020: Defining Our Strategic Competitive Advantage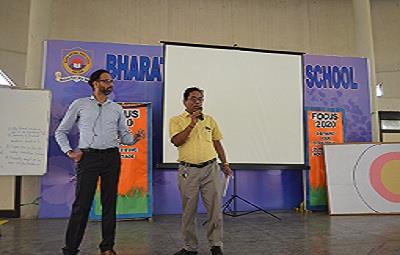 Bharat National Public School, Karkardooma organized an event called Appreciative Inquiry Summit For "Our Organization" FOCUS 2020: Defining Our Strategic Competitive Advantage from 21st to 25th May, 2018 at their school premises which mainly focused on the co-ordination of school teachers and other staff members of both Bharat National Public School and its sister school Happy English School. Teachers of both the organizations converged to actively participate in the event. Mr. Kanwaljeet Khungar, Principal of Bharat National Public School guided the teachers which gave them a clear vision of the entire workshop and through which they can come up with new ideas and creativity. The staff aimed to work upon their focus areas and will look forward to strengthen them until 2020 to make both the schools progress towards development and better future. Focus 2020 is an initiative of appreciative inquiry i.e. to build a path for future in an appreciative way so that it motivates the school and its teachers to work better for the organization. The appreciative inquiry will help the school in figuring out both their strengths and weaknesses so that they overcome the weaknesses and enhance the strengths which makes it a powerful association. The management of both the schools assembled and worked hard for organizing this event and the five day long workshop turned out to be a huge success where teachers shared their experiences which aids in transparency among them.
Student-Parent Orientation Organised by BNPS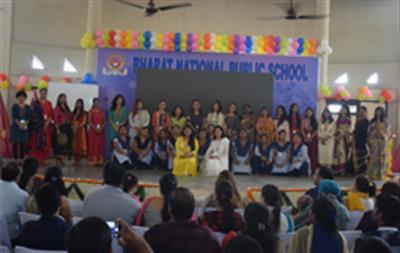 The Orientation Programme for the benefit of parents and students of Pre-Primary & Primary Class was organised by Bharat National Public School on 4th April,2018. The Principal of the school Mr. Kanwaljeet Khungar commenced the programme by emphasizing on the role of parents in shaping their children especially in the crucial years of their growth. He encouraged all the parents to spend quality time with their children and give constant encouragement and support to them. Parents were introduced to the entire Academic and Assisting staff and were also briefed about what their child will experience in the school.