Event/Activities
Winter Carnival-2019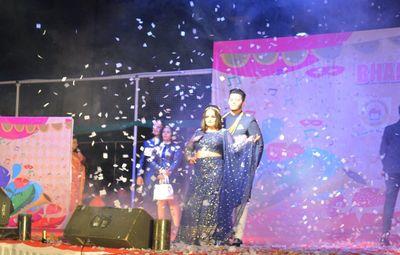 The school turned into a mini 'Fun City' where all the parents, teachers, students and the Principal of Bharat National Public School enjoyed a lot. The Winter Carnival organized by the school lifted the enthusiasm of students to the top level where they participated, managed, learned and to the most important enjoyed with their friends.
𝐀𝐫𝐭, 𝐂𝐫𝐚𝐟𝐭 𝐄𝐱𝐡𝐢𝐛𝐢𝐭𝐢𝐨𝐧 and 𝐁𝐨𝐨𝐤 𝐅𝐚𝐢𝐫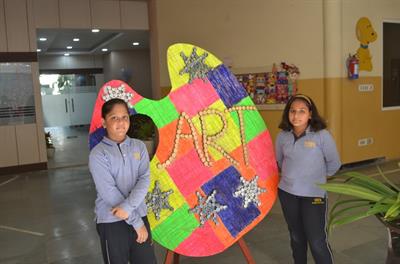 "𝐂𝐫𝐞𝐚𝐭𝐢𝐯𝐢𝐭𝐲 𝐢𝐬 𝐜𝐨𝐧𝐭𝐚𝐠𝐢𝐨𝐮𝐬 𝐩𝐚𝐬𝐬 𝐢𝐭 𝐨𝐧" – A very well said by Albert Einstein on 5th October, 2019 – Happy English School held Art and Craft Exhibition 2019, Book Fair 2019 by Scholastic Publications and Parents Teacher Meeting in their school campus, where students of this school participated and showcase their splendid creativity in art and craft and also enjoyed new content books in Book Fair 2019.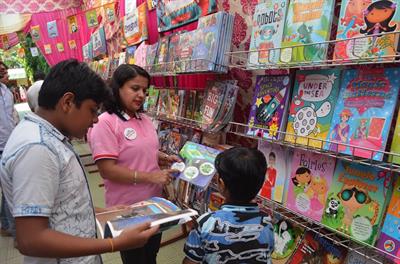 Happy English School provided a platform with the purpose of booming the interest of children into books and towards reading by organizing an enriching book fair. The purpose of the book fair was to promote the habits of reading through which a great enthusiasm and love for books have been witnessed among students.
𝐌𝐞𝐧𝐭𝐚𝐥 𝐇𝐞𝐚𝐥𝐭𝐡 𝐃𝐚𝐲 𝐂𝐞𝐥𝐞𝐛𝐫𝐚𝐭𝐢𝐨𝐧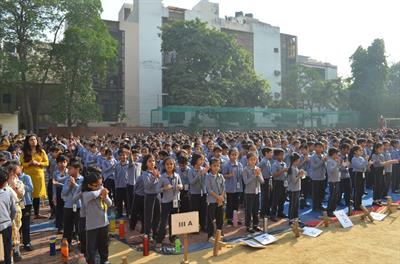 World Mental Health Day is a day for global mental health education, awareness, and advocacy against social stigma. This day, each October, thousands of supporters come to celebrate this annual awareness program to bring attention to mental illness and its major effects on peoples' life worldwide. Happy English School celebrated this day engaging students in meditation.
Special Assembly of UKG Rose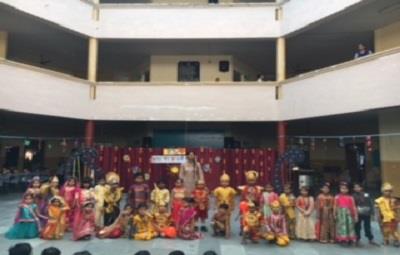 It was an amazing experience to work with young learners for their special assembly. The children were very excited to present their assembly and provided the absolute contribution from the start. Their excitement was such that we began practicing a week before the actual planned date. Their eagerness could be witnessed on the stage during their presentation in terms of their preparedness, their enjoyment, etc. on the 12th of October 2018. This helped children realize their responsibility for their respective roles as well as the feeling of assisting each other was enhanced during the process.
Special Assembly by UKG DAFFODIL on Seed Germination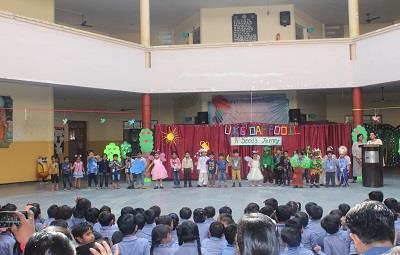 A Journey of a Seed
The little wonders of UKG DAFFODIL joined hands together and came up with a performance depicting the journey of a seed. Starting off by showing how a seed departs from his mother to how a seed grows into a sapling and then becomes a plant with the help of natural resources like water and sunlight. The students of UKG Daffodil were enthusiastic about their performance and enjoyed the play thoroughly.
Art Exhibition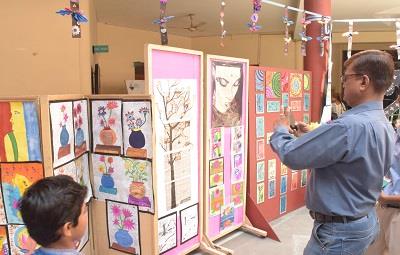 The art exhibition... Vibrance was organised by the school on 6th October. It showcased various activities of art n craft done by children. Volunteer children took care of each n every guest and explained the skills n techniques they learn during art classes. Parents witnessed the exhibition with a lot of interest and queries regarding the displays done. Also wrote the valuable feedbacks to encourage all of us. Thanks to Arti Ma'am for being part of it with a lot of encouraging words and appreciation.
JANMASHTMI CELEBRATION- life journey of God Kanha
Life journey of Kanha was dramatized – Kanha's journey to Gokul and reaching Maa Yashoda. Gopies expressed their feelings through their dances and music.
"VAATSALYA RAS KA ISSE SUNDAR UDAHARAN AUR KAHIN NAHI MILEGA."
Kanha was mischievous of breaking pots which makes Maa Yashoda angry. This scene shows Maa Yashoda scolding Kanha.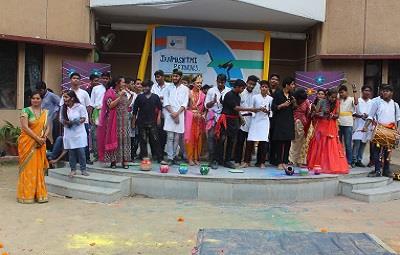 Next scene showed the RASLEELA through dance and music.
Finally the earthen pitcher was broken (MATKI PHOD) with dance, music and amusement.
The entire purpose of this assembly was to depict the culture of India where religion of
Humanity teaches the essence of love and happiness through the human reincarnation of
LORD KRISHNA
JANAMASHTMI CELEBRATIONS BY TINY TODDLERS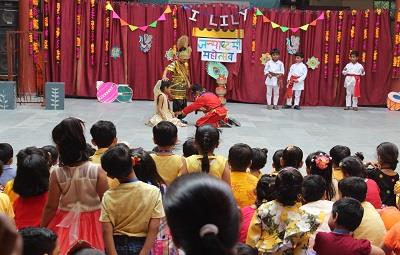 Special assemblies are always been a great experience for the teacher and for the learners. Students were aware that they will be having their assembly before the festival -JANAMASHTMI.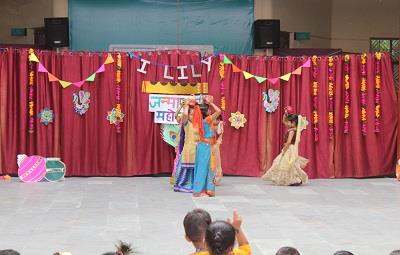 The students themselves decided to perform one of the stories related to Lord Krishna, though they were confused about which story to take up. They all were very enthusiastic and excited about the role of "Krishna and Radha", each one of them wanted to play the role of Krishna. With the discussion being facilitated by the teacher, they could conclude that everyone could not play the role of Krishna because there was only one such character in the story.
The teacher felt less burdened as children themselves were taking responsibilities like not missing the school as practice was going on, they kept on asking when their assembly is/ how many days are left, what time they would start the practice, etc. Learners were intrinsically motivated for practicing dance steps at their home also. They made the experience joyful and meaningful, both for the teacher and themselves.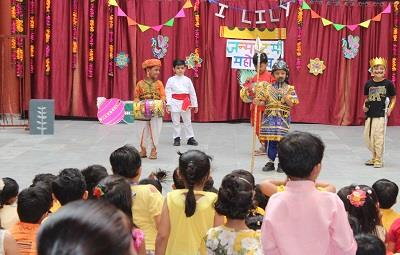 Teacher knew that it can never come up as beautiful as it was without hard work and support of the learners and co-teachers. Teacher is thankful to the team member and their efforts to make the assembly an excellent show for the audience.
Talents win the game, but team work and intelligence wins the championships.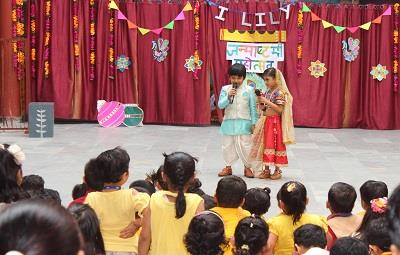 SPECIAL ASSEMBLY BY- GRADE 1 ROSE THEME-TRAVEL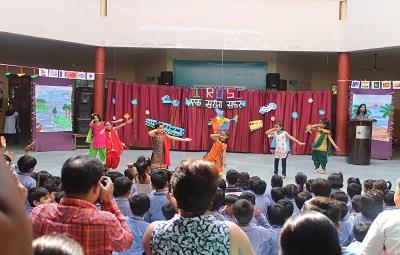 The assembly was conducted by the class in such an enthusiastic manner that everyone was appreciating the tiny tots and praising them from the core of their heart. The teacher and the whole class were involved in the process thoroughly as they had begun practicing for the presentation, almost a fortnight before.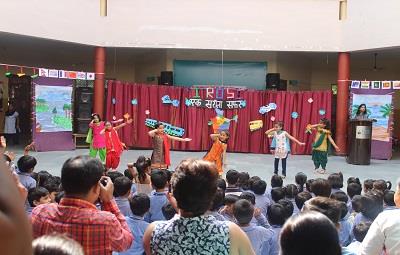 Initially, the idea of the skit was shared by the teacher with the children in the class in order to weave their (children) ideas in the story line, so that they would feel more connected while playing the same. The children made their own dialogues as per the given situations and presented confidently on "The Day". They were enjoying their roles and even supporting each other in the need, which was a commendable thing at such a young age.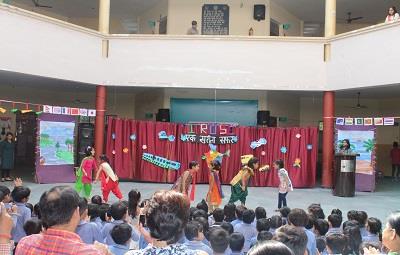 Parents were invited for the assembly to witness their child's presentation. The assembly was concluded with the parents' sharing of their immense satisfaction and happiness to see their child's growth and acknowledged and appreciated the teacher's vital role in it. They shared their happiness in being a part of HES Community.
Independence Day Celebration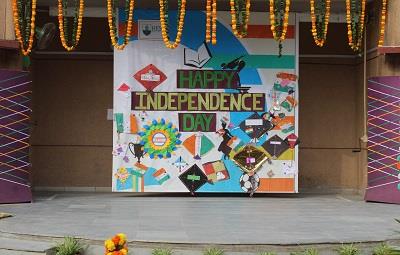 Let's feel proud...
To be the part of...
Our Glorious Nation...
And hoist the tri colour high...
Meet the young India
Emerging with flying colours,
Dynamic and versatile in every manner...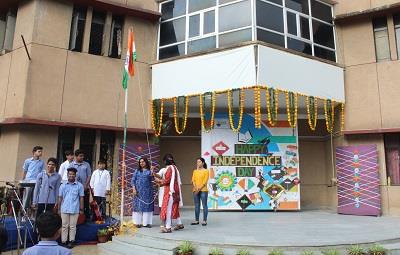 Just like every year this year too the stage was set and our HES family celebrated 71st Independence Day to salute every freedom fighter, who won this freedom and gave tribute to every soldier, who has kept it alive all these years with full zeal, enthusiasm and vigor.
We began the program with wonderful sharing by our Head Boy and Head Girl followed by electrifying dance, melodious music and classic theater performance. Each and every event was a blend of indulgent theme, patriotism, energy and dynamism. With proper guidance of activity teachers, children of classes III to X participated together and contributed gorgeously to the program in their own special way.
Ground was beautifully decorated by students of art club under the supervision of art teacher. Complete staff was dressed up in tri colour to add more flavor. Compering was done by four students of prefectural board. Also discipline amongst students was led by Prefectural board members. Indeed it was an amazing show put up together by students and activity teachers !!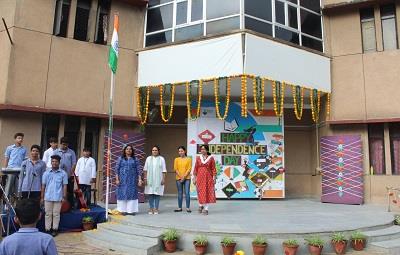 Special Assembly on INDEPENDENCE DAY Held on 3rd August 2018 by Ist Daffodil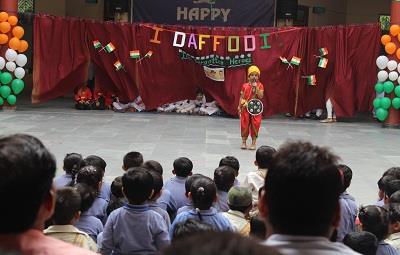 Theme: THE FORGOTTEN HEROES
Assemblies are an important feature of schools routine. They are a means to create a positive, reflective ethos, enable children to work in groups. They powerfully nurture the development of intrapersonal intelligence.
1st Daffodil performed special assembly on 3rd August 2018 with great pomp and show.
We began practicing for the assembly along with the whole class fortnight before 3rd August. Children were very excited to participate in the assembly. Their enthusiasm and excitement was clearly visible during practice sessions, even children used to practice at home. All children were filled with confidence and strived to perform their best.
The product of the assembly was very beautiful. The coordination among children was commendable, they were waiting for their turns calmly. Parents were also very happy to see their child perform in such a wonderful manner.
The entire teachers team of Pre-Primary was all involved to create the decorative material and the other staff member of HES family were equally helpful in providing all logistic equipments.
Appreciative Inquiry Summit For "Our Organization" FOCUS 2020: Defining Our Strategic Competitive Advantage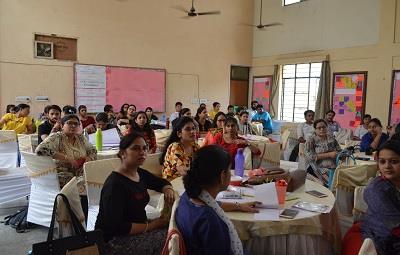 Bharat National Public School, Karkardooma organized an event called Appreciative Inquiry Summit For "Our Organization" FOCUS 2020: Defining Our Strategic Competitive Advantage from 21st to 25th May, 2018 at their school premises which mainly focused on the co-ordination of school teachers and other staff members of both Bharat National Public School and its sister school Happy English School. Teachers of both the organizations converged to actively participate in the event. Mr. Kanwaljeet Khungar, Principal of Bharat National Public School guided the teachers which gave them a clear vision of the entire workshop and through which they can come up with new ideas and creativity. The staff aimed to work upon their focus areas and will look forward to strengthen them until 2020 to make both the schools progress towards development and better future. Focus 2020 is an initiative of appreciative inquiry i.e. to build a path for future in an appreciative way so that it motivates the school and its teachers to work better for the organization. The appreciative inquiry will help the school in figuring out both their strengths and weaknesses so that they overcome the weaknesses and enhance the strengths which makes it a powerful association. The management of both the schools assembled and worked hard for organizing this event and the five day long workshop turned out to be a huge success where teachers shared their experiences which aids in transparency among them.