FG News
EXHIBITION
14 Jul 17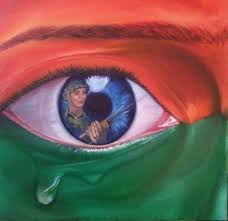 "Sarhadein" International Art Show on 20th July' 17 between 11:00 am to 7:00 pm.
"SARHADEN" International Group Art Exhibition is based on the border of our country and it is dedicated to Indian Army soldiers and martyrs.Through this exhibition we are trying to connect people and send a message of peace,love and unity all over the world.
We need your help & support to 'Sarhadein' International Art exhibition and to promote our artists. Especially artists from our country have made their paintings on the border of the country and the Indian army. The pain and pride of the Indian Army's family have landed in color.
Erum Khan - as a curator - has been promoting arts and cultural activities for quite some time.This group of artist promoted by Ms Khan are young upcoming talents who are breaking traditional thoughts with contemporary vision and are all set to be the masters in the times to come.
Venue : All India Fine Arts & Craft Society (AIFACS), 1 Rafi Marg, New Delhi.
Entry is free.
EXHIBITION
06 Jul 17
"Compassion Conceived" solo show of Prints and Paintings 'Mimesis' by Rajni Sahni on 11 July' 17 from 11:00 am to 7:00 pm. She studied Advance Diploma in Graphics from Santiniketan.
Mimesis means representation of self or we can say that the act of expression. Through her exhibition Rajni Sahni wants to depict what she had in mind during the time when she conceived. It was quite a challenging time but when she took her brushes all her vain went away.
The relationship between parents and their children is one of the most basic human interactions. Mothers and daughters holds both physical and emotional care. Same goes with Rajni as she loves her daughter very much. In the process, parents will instill children with family values and goals, while teaching them the accepted norms and values of society. This is done in hope that parents will one day see their own children become mature adults, with their own goals and purposes in life.
Venue : Shridharani Art Gallery, Triveni Kala Sangam, 205, Tansen Marg, Mandi House, New Delhi.
Entry is free.
EXHIBITION
30 Jun 17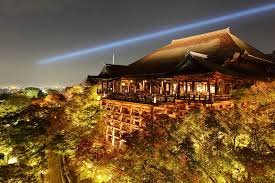 "Sacred Places and Pilgrimages in Japan" on 5th Juny' 17 between 11:00 am to 7:00 pm.
This exhibition will exhibit numerous photographs related to the pilgrimages and sacred places in Japan which are included under the World Heritage category of UNESCO. Since this exhibition focuses only on the places of Peace and Power, limited works will be displayed.
These photographs are captured by an eminent photographer Kazuyoshi Miyoshi.
Venue : Tenshin Okakura Gallery, The Japan Foundation, 5A Ring Road, Lajpat Nagar IV, New Delhi.
Entry is free.
THEATRE
24 Jun 17
"Kahani ki Kahani, Ismat ki Zubaani" Hindi Play on 29th June' 17 at 6:30 pm.A play based on Ismat Chughtai's autobiography, Kaghazi hai Pairahan, and other stories
The play "Kahani ki kahani, Ismat ki zubaani" is based on the life of Ismat Chughtai as narrated in her autobiography KAGHAZI HAI PAIRAHAN and through four of her very important and most discussed stories; LIHAAF which explored homosexuality and gender and became synonymous with her name, DO HAATH that re-examined the concept of fatherhood and patriarchy, BICHHU PHUPI where relationships are redefined turning individuals so poisonous that they turn into virtual scorpions and DOZAQI on the power and capacity of perpetually sick, weak individuals who manage to create a 'hell' for their loved ones on this earth.
The play discusses her turbulent friendship with her contemporary Saadat Hasan Manto, an equally great writer, the stormy relationship with her husband Shahid Lateef, the struggle she had to undergo to educate herself and the strength mastered to break all ties to be able to view people from a distance and write stories objectively.
Venue : C. D. Deshmukh Auditorium, Main Building, India International Centre (IIC), 40 Max Mueller Marg, Lodhi Estate, New Delhi.
Entry : Free.
THEATRE
20 Jun 17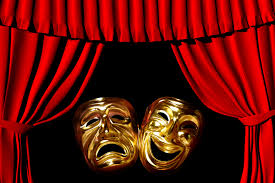 The Summer Theatre Festival from 23dr to 30th June' 17 at 7:00 pm.
Schedule :
23rd June : William Shakespeare's 'Hamlet'
24th June : Mahesh Dattani's 'On A Muggy Night In Mumbai', Language : English
25th June : Agatha Christie's 'Appointment With Death'
26th June : Mahasweta Devi's 'Hazaar Chaurasi Ki Maa'
27th June : Moliere's 'Tartuffe'
28th June : Girish Karnad's 'Agni Aur Barkha'
29th June : Atul Satya Koushik's 'Kaali Shalwar'
30th June : Girish Karnad's 'Tughlaq'.
Venue : Shri Ram Centre for Performing Arts (SRCPA), 4, Safdar Hashmi Marg, Mandi House, New Delhi.
Entry : Tickets priced at Rs. 300, Rs. 200, Available at :
Online : BookMyShow
---
Related Events