Event/Activities
Divinity summer camp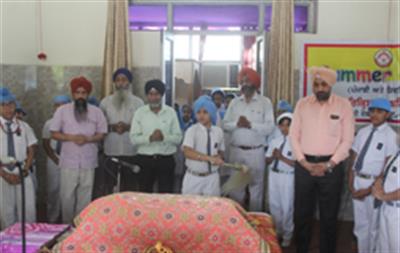 GHPS, Loni Road, Shahdara organised Divinity summer camp to propogate the importance and usefulness of Punjabi language as a medium to achieve success and reach one's dreams and destination.
The camp saw its culmination with the recitation of pious and pure recitation of Japji Sahib and melodious Shabad Kirtan by the students.
A Plethora of activities are going to be organised in the beautiful premises of GHPS. A documentary on Sikh religion, Kirtan recitation, Punjabi Poetry recitation, Shabad Antakshri, Slogan writing, Extempore, Storytelling, Punjabi Declamation will be the attraction of the Divinity Summer Camp
TALENT HUNT COMPETITION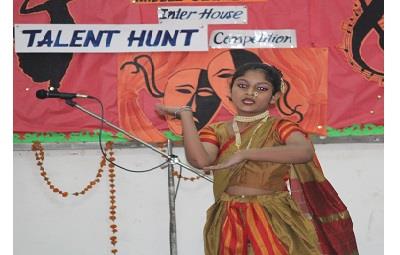 To provide a platform to the new students of the school, to come forward and portray their hidden talents, A Talent Hunt Competition was organised on 15th and 16th May 2018 for classes 6 to 8. Students showed a lot of enthusiasm and participated with great fervour and zeal, showcasing their talents in different categories like singing, dancing and mimicry etc.
Inter GHPS English Debate Competition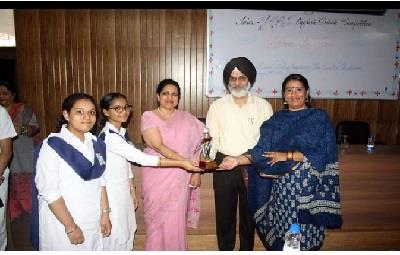 GHPS Loni Road Shahdara won the IInd Runners-up Trophy in the Inter GHPS English Debate Competition, which was organized at GHPS Vasant Vihar.
Esha Priya and Vanshika Sehgal of 10A made us proud with their confident and outstanding performance. Esha Priya also bagged the 3rd position individually and both our winners beamed with pride and pleasure, as they were bestowed with trophies and certificates by the Director of education Col. Jasbir Singh Nirmal and Mrs. Sukhwant Kaur, Principal GHPS Vasant Vihar.
SPECIAL HONOUR ASSEMBLY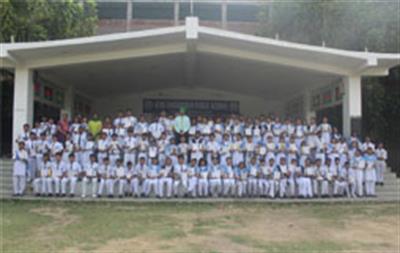 GHPS Loni Road, Shahdara organized a special Honour Assembly to felicitate the students for their outstanding performance in academics, divinity, vedic maths and 100% attendance for the session 2016-17. The students were awarded beautifully Scintillating trophies along with certificates.
AD -MAD 2018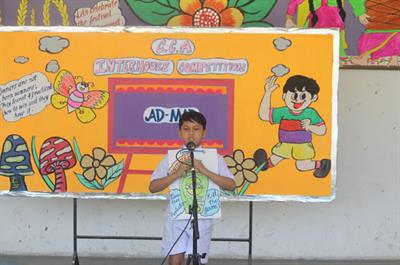 In our GHPS, Loni Road, there was a CCA Activity arranged for the students of classes 3rd, 4th and 5th on 24th April 2018. The topic was 'Ad-Mad' which included the Das like Black Polish, Hair Oil, Sanitizer etc. students participated and spread their shining colours on the stage out of which three made their mark and won the competition.
OBSERVATION OF ROAD SAFETY WEEK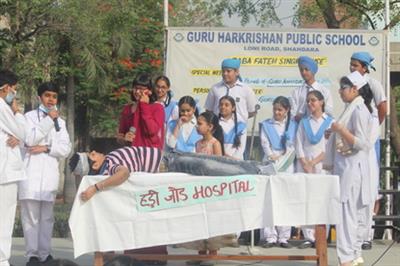 GHPS, Loni Road, Shahdara observed the 29th Road Safety Week w.e.from 23rd April 2018 to 30th April on the theme "Sadak Suraksha, Jeevan Raksha." A plethora of activities were conducted in all the segments of the School. The Primary segment organized an on the Spot Painting competition on 23rd April 2018. On 26th April 2018 a Question- Answer round related to Road Safety was organized in the Morning Assembly and a beautiful Skit on the Theme 'Sadak Suraksha, Jeevan Raksha' was presented by the students of the Senior Segment on the 27th day of April 2018. A speech on the same theme was also presented by the student Editor Esha Priya of X-A in the Morning Assembly to sensitize the students towards Road Safety.