Event/Activities
ROAD SAFETY WEEK 2018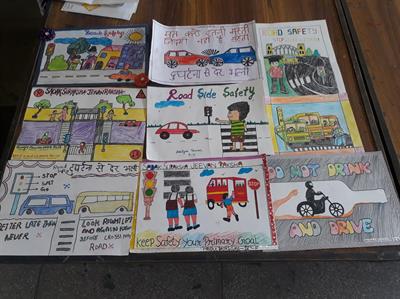 In GHPS Loni Road, Shahdara our Primary Segment celebrated the Road Safety Week 2018. Paintings are a language of dreams and one of the most creative forms of expression. Children love to paint everything. To motivate the students to express their views about Road Safety and to explore their creativity we organized a painting Event within the school premises. The Topic of the painting competition was "SADAK SURAKSHA JEEVAN RAKSHA".
All the students from class I to V participated with great enthusiasm.
Turban-Tying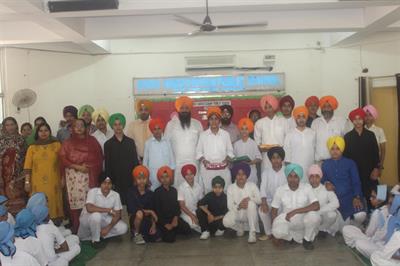 GHPS Loni Road, Shahdara, running under the aegis of DSGMC, organized a Turban Tying Competition to mark the 319th Khalsa Sirjana Diwas. The participants clad in beautifully tied colourful turbans stole the show not only by smartly walking on the ramp but also proved their competence and intellect by answering various questions related to 'The Khlasa Sirjana Diwas.'
The event commenced with a word of prayer to invoke the blessings of the Almighty. The event was made memorable with the enthralling recitals in the praise of Turban.
The programme was graced by the Hon'ble chairman of the school, S. Kulwant Singh Baath, who congratulated and blessed the participants and also shared his heart-felt reverence and love for the Pious, Precious and Sacred 'Turban.'
S. Amarjit Singh, the Hon'ble Principal of the school appreciated the endeavors of the participants and motivated the young boys to continue their efforts towards imbibing the teachings of the Gurus and making their lives sublime. He also opined that a turban should not only decorate the head of a 'Sikh' but also the 'soul' of a 'Sikh.'
The winners were awarded colourful turbans and certificates by the Hon'ble Chairman of the school.
On Spot Painting Competition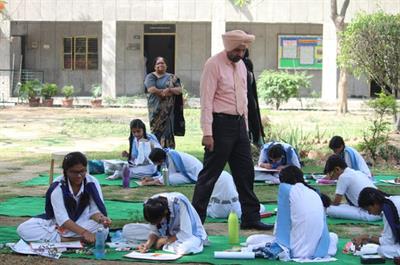 GHPS Loni Road Shahdara, organised an 'On the Spot Painting Competition' to celebrate the 319th Khalsa Sirjana Diwas.
The theme of the competition was 'Khalsa Sirjana Diwas'. The students of both the middle and the senior segment wholeheartedly participated in the colourful competition and added colours to their creativity and imagination. Their paintings surely were a treat to the eyes for those who beheld them.
Baisakhi Celebration 2018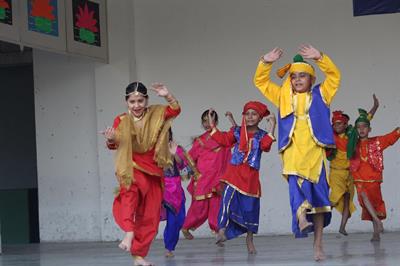 In GHPS, Loni Road, our primary segment celebrated Baisakhi Festival with great felicity as it is the harvest festival of Punjab and is celebrated with huge fanfare and excitement.
Our students rendered a melodious Shabad, "JAB LAG KHALSA RAHE NYARA," followed by a harmonious poem on Baisakhi. Children also performed a heart-throbbing dance to mark the foundation of "KHALSA PANTH". They displayed a distinct significance of this beautiful culture.
Annual Exhibition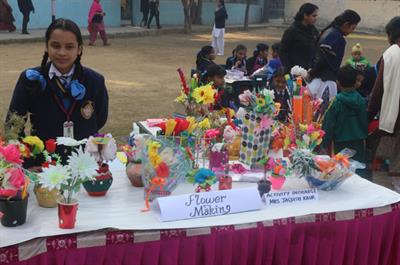 Annual Work Experience Exhibition was organised on 29th Dec 2017 to display the creativity of the students.
Blessing Ceremony
The School organised a special Prayer Meet on 26th February 2018 to seek the blessings of the Akal Purakh Waheguru for the students of Classes X & XII appearing for the Board Exams.