Annual Function
ANNUAL EVENT: THE MOST MEMORABLE DAY FOR HES COMMUNITY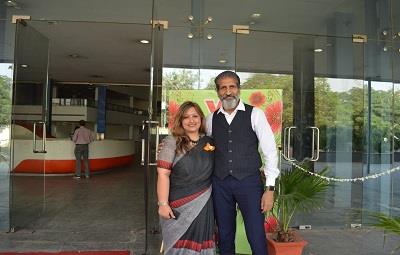 On the day of 23rd of November, 2018 will be the most memorable day for each and every person of HAPPY ENGLISH SCHOOL, as it was the annual event of the school, held at Yamuna sports complex.
Immense effort of the students, teachers and others support staff members turned this event to a very entertaining and grand success. The day began with an energetic note as entire HES community was excited and thrilled to take part in the event. The programme commenced with a short narrative of the school which included school structures, types of assemblies, Evolve – extracurricular activities, athletic week and many more. Children came up and shared about their bond with school. Around 10:30 the actual program was started where our chief guest 'Mr. Anurag Aggarwal' a famous motivational speaker and owner of around 10 institutions as well as author of many books was honored with the floral welcome. PTA members and other guests were warmly welcomed by a melodious Bengali prayer 'Annandaloke Mongalaloke' sung by teachers, parents, and support staff administrative staff and children. Later on a heart touching speech was delivered by Mr. Anurag Aggarwal. A group of students with their mentor sung a Sufi music with hymns on the occasion of Gurupurab. Finally it was the turn of a theater ballet "GUDIYA- SAPNO KI UDAN" full of dances performed by classes UKG to 5th. It was an imaginary story of childhood of a happy girl with a cute little clown. After this it was a chance for classes 6th – 10th to showcase their talent by presenting another ballet "TOBA TEK SINGH" which was related to togetherness and division of India and Pakistan. In transitions our head sir, chairman of school delivered a motivational talk to the audience.
Systematic and persistent work happened in harmony where the participants were involved joyfully and wholehearted. The cohesiveness was the key to success of this event HARMONY and made this day worth remembering.
SCRIPTED BY: GAGANDEEP SINGH – IX B
EDITED AND REFINED BY: VAIBHAV SARAFF – IX A
Dazzling Evening On Annual Day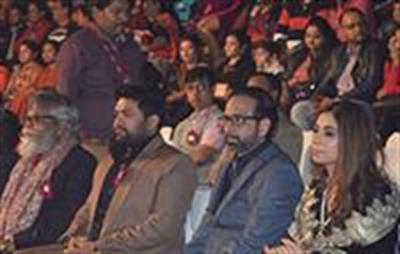 Delhi, 22nd December, 2017: Happy English School organized its annual event on 21st December, 2017, Thursday. The school staff along with its students organized the event at Yamuna Sports Complex auditorium. They organized the event to celebrate harmony to spread the word of peace in the present era when the world is torn by violence and restlessness. Anupam Shyam Ojha (Sajjan Singh), the renowned actor was the Chief Guest of the event.
The event began with lightning of lamp by Chief Guest, Head Sir and Head Ma'am followed by Ganesh vandana. Further, Mrs. Arti Khungar, principal of H.E.S. addressed the gathering by her simple and thought provoking opening speech. To welcome the guests, Mrs. Sunita Phuloria, the dance teacher along with the students presented a dance performance on the song 'Ghoomar'. The event was followed by two ballets: 'Khul Ja Sim Sim' and 'Ek Khwayish' performed by the students of primary and middle wing respectively.
The first play 'Khul Ja Sim Sim' was based on the famous Arabian nights' story 'Ali Baba And Challice Chor' projecting the various shades of human character through a ballet. Some of the songs in the ballet were, 'Senorita', 'Pyar Ki Ek Kahani Suno', 'Bhardo Jholi' and many more.
At the end of the first ballet, Harmony, the school magazine 2017-18 edition was launched. Further, the Chief Guest and Head sir delivered speeches on this occasion.
Preceded by a song, 'Together we can change the world', the second ballet, 'Ek Khwayish' began. It was based on harmonious human co-existence inspite of various social and geographical variations. The ballet had dance presentations on songs like 'Bulleya'. The annual event ended with grand finale dance presentations.
An overview of the programme was expressed by one of the teacher representatives captures the spirit of the Annual fiesta "Harmony" - 'Hard work and dedication of the entire team enabled to accomplish our mission.'

By: Khyati Jain and Kritvi Gera