Program Fees :
Rs. 1000/-
Creative Expression taps into students' artistic sensibilities to improve their creativity. Not only do students gain an appreciation for the arts, but they also improve in a specific art discipline, such as painting, drawing, graphic design, and others, allowing them to build an impressive portfolio. Unlocking a student's creativity can also lead to better problem solving. Students learn the basics of a form of art and learn how to express themselves creatively.
PROGRAM OUTLINE
Session 1- Origin and brief history of theatre, knowledge of stage and different terms of theatre.
Session 2- What is Theatre or Drama, different fields of Theatre.
Session 3- What is acting? What are acting tools? Different acting skills.
Mentor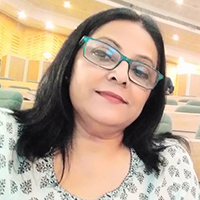 Beena Singh
Mentor

Beena Singh is a Founder Director of a theatre group 'Spandan'. Beena is an educationist and a theatre artist with a rich experience of 30 years. Currently, she is a theatre consultant to Times of India in their project NIE (Newspaper in Education). She conducts theatre workshops in schools in Delhi and NCR. She also acts as a career counselor to some of the renowned schools such as St Columbus, Ryan International etc.