Program Fees :
Type I) 1500 per student for 4 classes 400 per student for a classes ; Type II) 600 per student for one class 2200 per student for 4 classes in a month ; Type III) 1000 per student per workshop
Duration :
2 days in a week (3 hrs)
A musician (or instrumentalist) is a person who plays a musical instrument or is musically talented. Anyone who composes, conducts, or performs music may also be referred to as a musician. Musicians can specialize in any musical style, and some musicians play in a variety of different styles depending on cultures and background. Examples of a musician's possible skills include performing, conducting, singing, producing, composing, arranging, and the orchestration of music.
PROGRAM OUTLINE
Vocal and guitar tutorial.
Live bands/ stage acts and studio sessions.
How to pursue your career as an artist
Opportunities.
Internships.
Mentor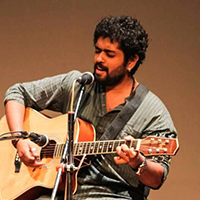 Akhil R. Pillai
Mentor
Akhil is a guitarist and vocalist in the Hindi Fusion Rock Band ?VED?. Since the band's inception in 2010, Akhil has been actively touring with the band since last 4 years. He has many stage performances to his credits. He has also performed for large variety of audiences at different events including corporate events, Club Gigs, private events, music festivals and college festivals.