Program Fees :
Rs. 12000/- for complete course.
Duration :
3 months (a)single class will be charged as 250/- per class or 1000/- for a combo of 5 classes. (b) long term course 5000/- per month (offline) (c) long term course 8000/- per month (online)
If you want to become RJ them you should have a vision of music programming, scripting, presenting radio shows, radio advertisements and lending voice to audio magazines and documentaries.
PROGRAM OUTLINE
Session 1- Voice modulation.
Session 2- Create Humor.
Session 3- how to care of high pitch and low pitch.
Session 4- Expressive.
Session 5- On air games.
Session 6- Twisters, punches, jacks, puzzles.
Mentor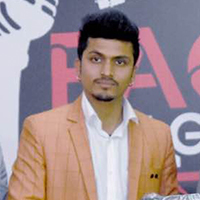 Mr. Tushar Bansal
Mentor
A young and dynamic personality blessed with a ravishing voice, Tushar Bansal carries an experience of more than five years in the entertainment industry. He has worked on different platforms and covered more than 550 live concerts on public demand across the country. His friendly attitude has endeared him to the public and has a huge fan following. He also had the privilege to host ROADIES X 1 and RADIO MIRCHI RJ HUNT. Tushar is uniquely gifted to engage and entertain his listeners so deeply that the listeners are left wanting for more.