Program Fees :
Rs. 499/- per student
Duration :
1 month (3 class a week)
The leadership course will teach you as it's a process of social influence, which maximizes the efforts of others, towards the achievement of a goal. It stems from social influence, not authority or power. Leadership requires others, and that implies they don't need to be direct reports.
PROGRAM OUTLINE
1) Integrity
2) Ability to Delegate
3) Communication
4) Self- Awareness
5) Gratitude
6) Learning Agility
7) Influence
8) Empathy
9) Courage
10) Respect
Mentor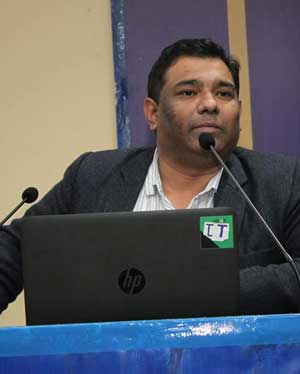 Mr. Prashant Sharma
Mentor
Mr. Prashant Sharma is a Corporate Soft Skills Trainer, Motivational Speaker, Life coach and Consultant for soft skills (Business Communication, Leadership & Management and Personality Development) and Neuro Linguistics Programming. He is also a great partner who cares about your goals in aspects of Unlocking Creativity, Accelerating Innovation, Adapting to Change for Motivation and Life Coaching & Motivational Activities.
He has attended world class trainings from well-renown trainers on a variety of topics like-management, soft skills, life skills and Neuro Linguistics Programming. He has also delivered training in huge organizations like BPCL,SUZLON,JOHN DEERE etc. For over 17 years, he has been teaching entrepreneurs, educators, corporate leaders, writers and industrial groups for how to build innovative organisations and design the creative life they have. Effective Parenting is one aspect that he is best at.