Program Fees :
Rs 500/- per student
Duration :
1 month (4 classes a week)
This program is specially designed to help the students to develop the right skill set and growth mindset to overcome stage fear effectively, along the way to be a great public speaker.
Gloss phobia- the fear of public speaking ranks above other popular phobias. But the good news is that with conscious and constant practice and by applying the right techniques and proven tools it is possible to overcome the fear of public speaking and speak as confidently as the world's top public speakers. This course is a practical guide that reveals powerful public speaking secrets that have worked since the times of ancient speakers like Aristotle and Cicero, all the way to the best public speaker of this century like Les Brown and Steve Jobs.

This course will help students to learn powerful tools, strategies, and an array of techniques already employed by the great public speakers of the present day to advance as the next exceptional public speaker.
PROGRAM OUTLINE
The Winning Package
Day 1: The 5 P's of Public Speaking
Foundations Of Public Speaking
Day 2: Speech Purpose
Day 3: Topic Selection
Day 4: Audience Analysis
Speech Preparation
Day 5: Research
Day 6: Organize The Content
Day 7: Support
Speech Practice
Day 8: Verbal Delivery
Day 9: Non- Verbal Delivery
Performance- The 4 Step System
Day 10: Before We Start On Stage
Day 11: How To Start The Presentation
Day 12: Effective Content Delivery
Day 13: How To End The Presentation
Passion
Day 14: Five Effective Ways To Speaking Passionately With A Purpose
Powerful Tips And Techniques
Day 15: The Three Building Blocks Of Public Speaking
Day 16: The Rule Of 3 In Public Speaking
Day 17: The Power Of Storytelling In Presentations
Day 18: Powerful Body Language Tips For A Winning Speech
Day 19: The Take-Away Message- The Big Idea
Day 20: Assignments
Day 21: Bonus
Mentor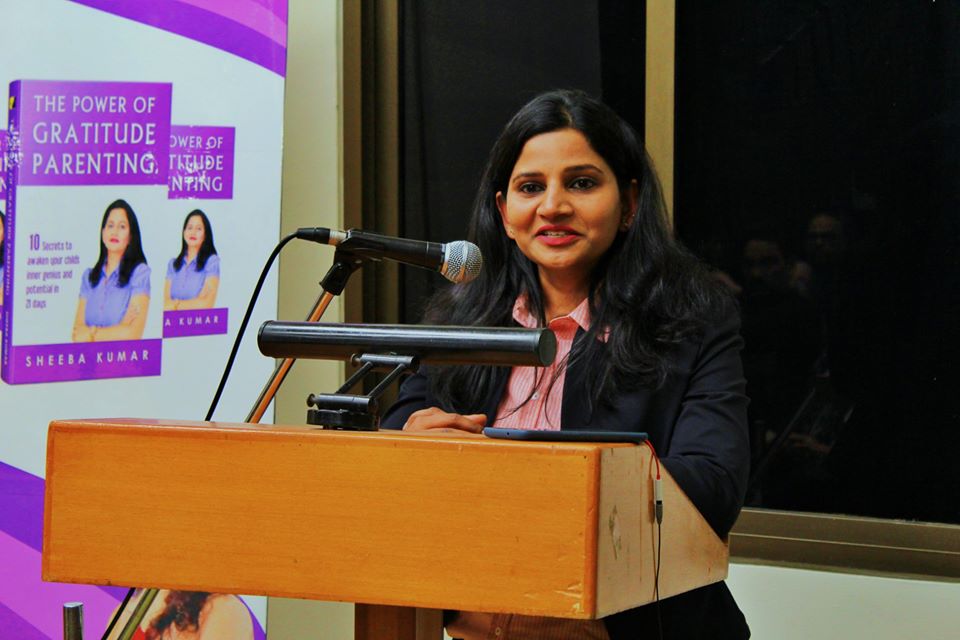 Sheeba Kumar
Mentor
Ms. Sheeba Kumar is a Certified Parenting Coach, Author, and a Motivational Speaker with over thirteen years of diversified professional experience in the area of HR, Training, Teaching, and Coaching. Sheeba is an avid believer in the power of Gratitude and Yoga. She is living proof that each one of us has the power to transform obstacles and sufferings into valuable opportunities to build self-worth and create the most remarkable life we can imagine. She is dedicated to helping others to overcome challenges so that they can fulfill the unlimited potential that is within each one of us. She has a passion to make a positive impact in the lives of young children who face academic, emotional, and behavioural challenges through a holistic approach. She is also on a mission to support the cause of empowerment of underprivileged children and to inspire them intuitively to build a better world.