Student Article
/ Painting
How God Can Save India From Covid-19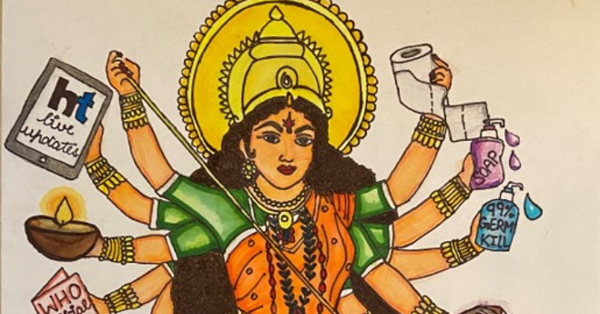 Assistant Editor
22 Apr, 2020
Several epidemics have ravaged India over the years, and the one peculiar fact is that gods, goddesses and cultural narratives are more often than not intertwined with disease outbreaks. From the Antonine Plague between the years 165AD and 180AD which was a disease like smallpox or measles, the New World Smallpox (1520), Yellow Fever (1800), Indian Plague which erupted violently in 1817 in Bengal, Russian Flu (1889-90), to HIV/AIDS, to swine flu and COVID-19, we have a lengthy history of experiences of disease outbreaks.

Scientists and doctors have always dealt with them in their own way and the common people have defined, understood and responded to them in their own. Various gods, goddesses and cultural narratives emerged during these days of pandemics in India. After 1520, when smallpox (chechak) emerged in various societies of the world and reached to India through trade and other contacts, a goddess, Shitala, emerged as the deity who could cure the disease. Well, not quite, but she definitely was a source of immense emotional support.
Similarly, when the plague spread in India from other parts of the world, it became known as the Indian Plague. Historians have documented that it erupted very violently in Bengal in 1817 but originated and transmitted much earlier in native people through travel of military troops and other types of contact. In Bengali society, this epidemic was known as Olaotha. Locals used to worship a goddess named Ola Bibi to save them from the plague.
Even today in India, many people have faith that such divine phenomena may even save them from viral diseases. Added to this is the very creative and cultural advice given by our honourable prime minister Narendra Modi, like lighting diyas in the balcony in the evening and switching off all the lights almost like Diwali when Lord Ram returned, and clapping and playing instruments in the balcony continuously for five minutes to honour the doctors of the country, and of course the DIY remedies that may cure Covid-19 with Indian spices that spring up on social media sites daily.

On the other hand, amidst this nationwide religious approach to the pandemic, Indian scientists are racing to find interdisciplinary solutions in the country's high-stake fight against the novel coronavirus.
With an unprecedented demographic challenge at hand – that of keeping over 1.3 billion people infection free– and struggling with traditionally limited budgets allocated to science, the country's scientists have arrayed themselves overtime to deliver small and big solutions – from envisaging arithmetical tendencies and making mathematical models, to developing speedy paper-based test kits and low-cost ventilators. Some are even mass-producing masks and hand sanitisers while others are resorting to repurposing drugs and single-mindedly working towards a vaccine to flatten the curve of the disease.
What makes India's fight distinct is that rationality and cultural beliefs exist next to each other in the country. And this is how faith in God gives the citizens a glimmer of hope, a sense of trust in doctors, the government's decisions, in all that is happening around and will save us from the abysmal scrunch of anxiety, stress, and anger.
Thoughts behind painting: To me painting is an intercession for those sentiments beyond rational description. I wanted to paint something that embodied all my thoughts, both as a medical student and as a theist. And who better than the 10 handed mighty goddess Durga, to lead the path? In this painting, the Asura/Demon that she's killing is the Corona Virus along with the negative energy and fear associated with it. Each object in her individual hands is a weapon, even the diya and the thali! While one brings light to the people enveloped by darkness, the other with it's sound destroys all anxiety. This is just my POV. My friend finds the painting a revision of Bharat Mata, appearing once again to make us realize the strength of coming together as a community. My mother feels that it describes how God always shows us the right path.
By: Pahul Sachdeva
School: ITL Public School