Student Article
/ Singing
Sing like No one's Listening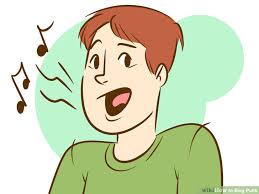 The only thing better than singing is more singing. Singing is a form of regular, controlled breathing,since breathing out occurs on the song phrases and inhaling takes place between these. It gives you pretty much the same effect as yoga breathing. It helps you relax, and there are indications that it does provide a heart benefits.
No matter how talented an individual is music lessons will allow to improve the voice and range. A vocal or music coach can teach about proper posture and breathing techniques, as well as help identify different rhythms, scales and melodies.
While singing competitions advertise instant fame for a few aspiring performers, not all singers begin their careers that way. Most singers start humbly and rely on their talent, education and persistence in order to succeed. Taking realistic steps toward a singing career is important. Good luck might be the key to fame,but dedication is the key to success.
Many universities offer programs that are specially meant for musicians, such as operatic singers or aspiring Broadway stars. They can get themselves enrolled and learn about music theory, composition and the history of music, among other subjects.
If you want to sing out, sing out. There is no creative alternative to singing.