FairGaze Fair Talks on 'Impact of Pandemic on Education' with Panellists from Schools Govt,
Tuesday, 12 May 2020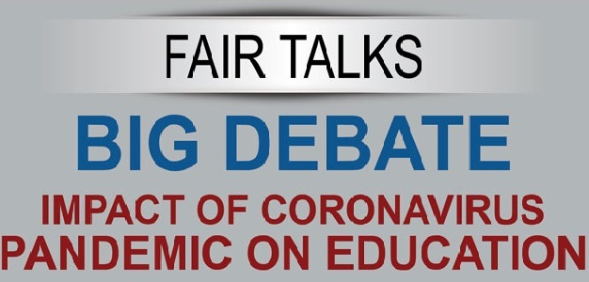 New Delhi, 9 May 2020: This lockdown has brought many changes to the standard approach of the people to work and lifestyle, but one sector that is highly impacted is our education system. Many schools have started with online learning that also includes co-curricular activities but there are many who have not been able keep pace with situation. FairGaze, an educational media has organised an online panel discussion 'Impact of Pandemic on Education'on Sunday, 10th May 2020 at 05:00 P.M.
Many of us might not be happy with school daily routine or might have any suggestions that can be given for making the situation better. This panel discussion will discuss thechallenges and possible solutions on the impact of lockdown on our education. Some of the burnings questions like accessibility of online learning for all, the challenges faced by the schools in implementing online education, the ideal process for implementation, and many more, will be discussed during the panel discussion.
FairGaze has brought to the panel renowned policy makers, educationists and Government officials who will discuss and explore the issues on behalf of the school, parent and government bodies. The five panellists include:
1) ShriSatyadevPachauri, (MP, BJP)
2) ShriSatishTiwari, (DIOS, Kanpur)
3) Major Harsh Kumar, (NCERT Secretary)
4) Ms. Indira Kohli, (Director, Delhi Public School)
5) Mr.Balwinder Singh, (City Co-ordinator (CBSE) Kanpur &Unnao, President of Kanpur Sahodaya School)
For registering, click on the link: https://fairgaze.com/fair-talks.html
We will be also LIVE on Facebook: https://www.facebook.com/fairgaze/
FairGaze is the largest school focused media which works with various stakeholders and policy makers, which also include organizers of premium events associated with education industry. FairGaze engages with over 350,000 students from over 13000 schools across India. FairGaze works with schools to help manage their newsletter in order to promote the sports and cultural functions of the schools and recognize the activation of the students.