About this webinar
Achieving Concentration Through Mandala Art
Art is an expression that we use to express ourselves and our emotions in our own unique way. Art is something that gives us calm, concentration, and peace of mind. Mandala Art is a form of expression of art that has become a rage amongst all those who are mostly under stress. Mandala art is no longer just a colouring book with intricate patterns, but it is now ways in which many who have so much work and life stress vent it all out with their chosen colours.
Mandala in Sanskrit means circle or the centre, and these circles are symbols of spirituality, which denote Buddhism and Hinduism. The mandalas we colour have many concentric circles, which bring harmony and fullness to the mind. It has many benefits that you may not have realised.

Mandala colouring has a healing power that aids in the reduction of negativity and the instillation of calmness in your mind. It helps reduce anxiety and stress as the sacred circles of this art can have a recuperative effect. Apart from being a great stress reliever, mandala art needs you to be attentive and it requires you to be calm. The combination of the two needs you to concentrate as you need to be deeply engaged in the colour sequence and not go out of line.

Join this webinar and learn more about mandala art and the techniques it has to keep your mind in a state of concentration, which is achieved through a calm and stress-free mind. Learn more in this webinar.
Speakers/Mentors
Vaishali
Artist
Vaishali has done her Bachelor's in Computer Science from DU. She is an artist who loves to express thoughts and imaginations through a mandala art form. A self-taught artist and have been inclined towards artwork for a long time where most of them are created out of her imagination. She has featured her artworks on social media which gained a massive response. Apart from making mandala arts, my interest also lies in doodling, string arts, and painting. She is a Mandala expert. Mandala word originated from the Sanskrit word 'Mandal' which means circle, and it represents the universe due to its cyclic shape. It was used as a map in ancient times and recently taken as a guide for meditation and spiritual path.
Benefits Of Webinar
• You will be able to learn how mandala art helps relieve stress.
• In this webinar, art and its effects on the mind will be discussed.
• In this webinar, how mandala art helps be stress-free and calm will be taught.
• You will get to ask the mentor questions directly.
Webinar Stats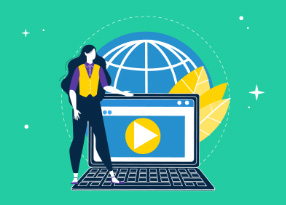 Reach:

Engagement:

Website Sessions:

Registrations: 14