About this webinar
Biodiversity & Human Well-Being, Climate Change
Mahatma Gandhi Institute of Education for Peace and Sustainable Development focuses on Transforming Education towards SDG 4.7 through programs that promote social and emotional learning, innovate digital pedagogies and empower youth.

The vision is to "Building Kinder Brains". They believe in Transforming Education with Social and Emotional Learning for Sustainable Development Goals (SDGs). It presents unique courses, like Biodiversity and climate change.
Climate change: The course is designed to take students through various aspects of climate change. It not only introduces them to the key concepts but also guides them through some stimulations, games & interactive activities to help build key social and emotional competencies. The Climate Change course is the first to integrate emotion with cognition. It builds knowledge of key climate change concepts like carbon footprint and international treaties and focuses on building skills such as self-awareness, emotional regulation, critical inquiry, perspective-taking, and compassion. It is ready to use as a stand-alone course or as an additional resource for teachers and learners to learn about climate change and take behavioural actions for change.
Biodiversity & human well-being: It enables learners to acquire critical perspectives on biodiversity & human well-being as well as gain the social and emotional competencies that can facilitate biodiversity conservation efforts. It's a self-paced interactive course on biodiversity and human well-being consisting of 6 modules that enable learners to understand the concept of natural capital, inclusive wealth, ecosystem services and their connection with human well-being. Participants critically evaluate and inquire about various aspects of biodiversity and human well-being in the course. It also builds social and emotional learning competencies to understand varying and respond to conflicting points of view on biodiversity loss and the power of mindfulness activities to help address this conflict and take positive action.
Speakers/Mentors
Dr Anurag Deep
Digital Pedagogy Designer
Dr Anurag Deep has conceptualized and implemented 5+ online learning courses, engaging 50000+ learners and 5000 teachers from 128 countries. He received his PhD in Educational Technology from the Indian Institute of Technology Bombay and a master's degree in Environmental Studies from the University of Delhi.
Webinar Stats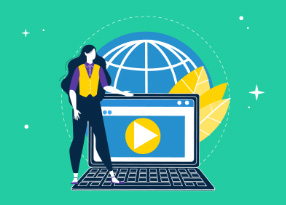 Reach:

Engagement:

Website Sessions:

Registrations: 69