About this webinar
Cartoon Drawing
We all have grown up watching our favorite cartoon characters on television. Ever thought that the cartoon characters we all love watching, are made by someone like us? Or have you already tried sketching your superhero character but failed in achieving the same? That doesn't mean that you can't draw. It is maybe because you didn't start right because not everyone is born an artist, some are self-made, they hustle every day to attain the skills that are rare to them.
The art to learn a new skill first requires unlearning what you already know about it. Start from scratch, learn the basics, they hold the utmost significance as it helps in transforming the zest in you into the vision you believe.
All cartoonists aim for originality, imagination and creative humor that is individual to them and that can only come when the artist has the power to observe the masses. All learning comes from our surroundings, if the artist understands the masses and volume then creations are not far away. For say, the fruits and vegetables we eat have such unique shapes. Start caricaturing your creativity through them, who knows you might end up creating a masterpiece.
Join this webinar which is in association with Ri8brain, a Toonz media group initiative to learn from the masters about cartoon drawing skills and define your path of reaching all highs of artistic brilliance.
Materials Required: Pencil, paper
Speakers/Mentors
Riddhi Sengupta
Art & Craft
Riddhi Sengupta holds a graduate degree in Commerce from Calcutta University. She also completed a Diploma in Advanced Software Technology from CMC Ltd. in 2003 simultaneously. On completion of a Diploma in Multimedia from Arena Multimedia in 2005 she got herself admitted to TOONZ WEBEL Academy, Kolkata. She joined Arena Animation as Production-in-charge and Trainer from January 2007 to June 2007, and again from January 2011 to March 2014. She has been serving as a faculty in CAD Centre under Jadavpur University from January 2008. She has around 15 years of experience, and is trained in shaping young minds in the creative fields.
Benefits Of Webinar
You will be introduced to the world of cartoon designing- impartation of basic concepts.

Learn how to make cartoon faces using fruits.

You will learn the techniques of cartoon making- a pre-requisite for an upcoming artist.

An opportunity to broaden the horizon of your imagination skills to draw a cartoon.

Doors opened for asking questions to the mentor.
Webinar Stats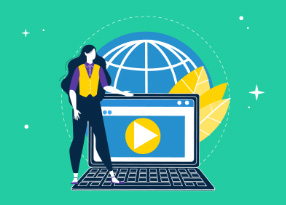 Reach:

Engagement:

Website Sessions:

Registrations: 105