About this webinar
Use The Used
We all have learned about the 3R's in schools, which is Reuse, Recycle and Reduce and somewhere we are applying that in our lifestyle also. We all know plastics are harmful to the earth, but now it has become one of the most basic necessities of our life. Plastics like plastic bottles are something that how much hard we try; we can't stop using these completely.
The webinar focuses on creating something valuable out of waste plastic.
Things required-
2 plastic bottles

Paint color – black, red and pink

Paint brush

Scissor

Glue/ Feviquick
Speakers/Mentors
Kalpana Mandal
Handicrafts and Arts Expert
Ms. Kalpana Mandal is a very enthusiastic young and talented artist. Currently, she is pursuing her art and craft coursework from Art & Craft Institute, Noida. She has been volunteering with Edu craft and holds a good experience of working with children.
Her remarkable experience in arts and her ability to work outside the traditional field of fine arts (handicrafts with waste materials, Portrait, Painting, Paper Craft, and Sketching) gives her a unique edge over others. Kalpana is highly committed towards her profession and sincerely devotes her time in providing good quality art education to her students thereby also grooming their personality.
Her artistic creations have also been exhibited at the NOIDA Stadium in January 2020.
Benefits Of Webinar
The webinar will inculcate a seed of creativity in all the young minds which in turn have many benefits:
Creativity permits you to communicate : An essential part of the human condition includes realizing what our identity is and perceiving how that fits into the remainder of the world. Creativity permits self-revelation, just as the chance to share a concealed side of ourselves.

Creativity advances thinking and problem solving : From specialized subtleties of writing, drawing, or making to the test out of making, critical thinking is a necessary part of the imaginative procedure.

Creativity reduces pressure and nervousness : Individuals ordinarily seek after imaginative ventures since they appreciate the procedure or the outcome. Simply the demonstration of making motivates a feeling of happiness.

Creativity gives you a feeling of direction : Journalists, specialists, and performers frequently distinguish by those words whether they bring in cash at their art or not. Their imaginative strategy is their method of handling the world and a method of depicting what their identity is.

Creativity improves your capacity to center : The demonstration of making requires devotion and duty, not exclusively to every individual undertaking yet to the specialty itself.

Creativity is an essential part for development : Each advancement in the world began with another thought, and new thoughts are enlivened by creative mind and Creativity.

Turning your lockdown time in productive time : Every second is very essential in everyone's life and therefore your time is also precious. Use your golden days into some productive things and learn some new skills, enhance your creativity.
Webinar Stats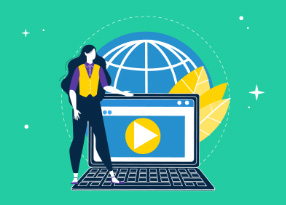 Reach: 1464
Engagement: 454
Website Sessions: 516
Registrations: 0