About this webinar
Accepting Our Uniqueness
Our sense of purpose in life is enhanced by our uniqueness. It is visible in a person's likes and dislikes, personality, and life events. The fact and beauty of being unique is that you are the only YOU there.
In certain ways, pupils benefit from their individuality. Students are at ease with their creative brains, skills, and options. One of the best ways to be unique is to remain curious about things.
Students gain their own perspectives and ideas, which aids them in seizing opportunities and utilising their creativity abilities and ideas. Being unique provides an extraordinary delight for embracing yourself as you are in today's generation where people are fighting to find themselves.
So hereby we announce our webinar on future life skills category by our mentor Ms. Varalika Mishra who will be telling us more about the merits of accepting yourself.
Speakers/Mentors
Varalika Mishra
Educator, Author, Mental Health Advocate and Journalist
Varalika Mishra, is a certified mental health first aider on suicide prevention. She is the founder of Your Story is important - her initiative on mental health. She is a freelance journalist and an educator. She is also a published author - recently published her poetry book Shanti Panna with Notion Press in 2021. In the past, she has worked with The Hindu as a sub editor and a reporter with Hindustan Times. Currently she writes for Meghalaya Times newspaper, and various news portals like eNewsroom, Feminism in India, Asia Times, Clarion, Meghalaya Monitor.
On her mental health page, she conducts dialogues and conversations with people who have had experiences with mental health issues and who closely work for this cause. Some of the topics include: Body Shaming and its impact on mental health; Dark skin is beautiful; Men can have depression too; Mental health of Kashmiri women and children; Addiction and its impact on mental health; Dance and its relationship with mental well being; Grief of losing a dog; Dialogue on emotions and its impact on mental well being; Myths around mental health; Mental health of women; music and its impact on mental health; and several other important topics.
Her purpose is to be a catalyst and listen to every human being's story because when she was going through a tough time, she did not find anyone who could listen to her. So it became her mission to be that one person for every soul. She has also conducted a talk at Delhi University in October, last year, for Political Science students on the topic- Social Exclusion and its impact on Mental Health. It was for students who were pursuing their masters in Political Science. She has held dialogues with Mr. Vijay Lokapally - Former Deputy Editor of Hindu on his own journey of depression and with Ms. Lalitha Kumaramangalam on the topic - Women and their mental health with regard to sex workers and acid attack survivors.
She also had a dialogue with Ms. Tania Singh who works closely with acid attack survivors. Her main purpose is to normalize the notion around mental health and break the stigma. In 2019, she conducted several mental health workshops in Government and private schools. She also participated in the UNESCO campaign in 2020, November, and her quote was published on the relevance of mental health. She conducted a mental health workshop at the University of Delhi for Political Science students - Masters students on social exclusion and its impact on mental health during the pandemic. She feels grateful for her journey. Because of her own experience, she has developed the strength and empathy to fight for this cause.
Benefits Of Webinar
Teaching students to embrace themselves,

To evolve for the better,

To teach children about the importance of creativity,

To accept their unique personality,
Webinar Stats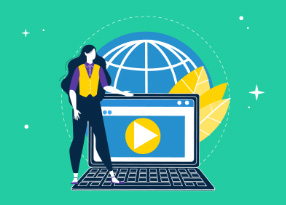 Reach:

Engagement:

Website Sessions:

Registrations: 1