About this webinar
Discover your potential and Kick the issues
"Discover yourself" is a practice to look inward to examine one's own thoughts and emotions. It is really very useful process for our daily life even. When we reflect on our thoughts, emotions, and memories and examine what they mean, we are engaged in introspection. By discovering yourself provides you with the tips to introspect which help you to achieve inner peace. It boosts your confidence and helps you to discover obstacles in the success path.
Discovering yourself is a great source of personal knowledge. It focuses on expanding your personal efficiency and communication with others. This webinar emphasizes how confidence, efficiency, and performance are influenced by the way we interact. The program also discusses the importance of a positive attitude about yourself and how to develop it.
Small activities during the webinar will give the candidate a deep insight that will enlighten them about their personal communication style and interpersonal skills. The process is highly useful for students to enhance their concentration, communication, decision making power and creativity.
Student life is not all about academics, games, friends and fun. In fact, it is also about learning to interact with other people, being aware of the social issues and learning to amend the deformities present in our personalities.
This webinar will teach our audience about identifying irrational thoughts and the importance of discovering yourself with the help of fun exercises that will be derived by our mentor.
The focus of the webinar would be to discover your irrational thoughts, weakness and potentials which will make us aware of :
Our thoughts and the relation of actions to our emotional response to the world.

Our approach to daily life.

Creative ideas.
Instructions to the Audience is to be open & try to read your self and gain most of the tips from the mentor by getting your writing pads to take notes from the mentor.
Speakers/Mentors
Dr. Charu Sharma
Yoga Expert
Dr. Charu Sharma is an enthusiastic Yoga Expert excelling in Yoga Philosophy, practical applications, and training. She has completed her Masters and Doctorate from Dev Sanskriti Vishwavidhyalaya, Haridwar. She is a university topper in the year 2004 and recipient of Gold Medal for the same.
She has a diverse range of work history including working as a Yoga expert in the Indian Yoga Organization, Delhi, working as a Freelance Workshop Facilitator. She has extensive experience in teaching as she worked as a Lecturer in LNIPE, Gwalior, M.P., and in DSVV, Haridwar.
With her experience in Yoga, she has been able to provide motivation and training through various workshops and programs.
Benefits Of Webinar
Students will learn about the value of little things that make a big difference and will improve their interpersonal relationship.

The audience will able to renew their enthusiasm for being a team player and will brush up their responsible behaviour by sharpening their understanding with the help of the mentor's guidance.

Parents will be direct towards their inner peace and happiness and will get to know how to overcome anger, jealousy, frustration and depression in their lifestyle.

Teachers will gain insights into how they will be able to develop their confidence and leadership skills by Living up to their full potential.

Also, all the working professionals will be able to remove the psychological burdens of past responsibilities and lifestyle.
Webinar Stats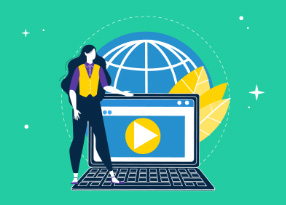 Reach:

Engagement:

Website Sessions:

Registrations: 19