About this webinar
Empowering Children With A Happy Body & Mind
We need to be glad and our children must be taught that they should also lead a life of happiness. In everyday things, we have to decide to find happiness. It is a good thing to teach your kids to look at the glass half full and see the world in rose-colored glasses. Optimism brings joy. Learn to smile with your child frequently. Smiling is an incredibly efficient practice that not only makes you happy yourself but helps others around you to be happy as well. In this webinar, the mentor will teach students how they can make their mind happy by empowering the mind. Often in life, we ponder about the meaning of 'life'. We are often surrounded by questions like 'Who are You?, 'Are you confident enough?' 'Does your mind stop in taking actions?' In this webinar, we will get the answer to all these questions.
Speakers/Mentors
Ms. Sangeeta Goyal
Soft Skill Trainer
Sangeeta Goyal is a trained and certified soft skill trainer, Image Consultant, and Life Coach, working on the transformational journey with people who are stuck in their life and have no clarity. She is passionate about bringing changes in people's mindsets to surround themselves with success and happiness. She has been successfully imparting training to teachers, corporate houses, institutes, NGOs, and individuals.
Sangeeta, is a professional trainer with 6 years of rich - rewarding Training & Development execution experience with a proven track record of delivering results in a deadline-driven environment, training in diverse fields ranging from Indian railways, hospitality, customer care, banking and finance institutes, educational institutes, pharmaceuticals, beauty pageants, etc. She is the key factor in bringing transformational effects in personal, professional and social lives of her clients. She is also well trained in communication skills to bring complete personality and attitude development. She has successfully trained more than a thousand people through workshops and individual training.
Benefits Of Webinar

1. Learn the little things through which you can empower yourself everyday
2. Get to know the importance of a healthy body and mind.
3. Learn how self-confidence plays a huge role in seeking you empowerment.
4. Learn some ways in which you can live a happy and healthy life with the right mindset.
Webinar Stats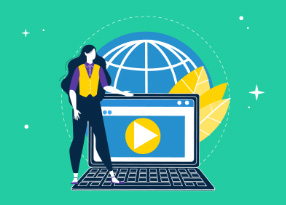 Reach:

Engagement:

Website Sessions:

Registrations: 38