Event/Activities
Workshop On Anti-Addiction India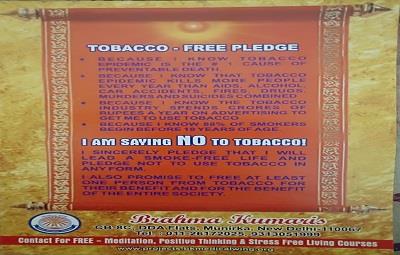 The workshop was conducted by people from Brahma Kumaris World Spiritual University. The workshop was a part of their Addiction Free India Campaign which mainly aimed at the youth. It was a very spiritual and an informative session conducted by Brahmkumari Meera Ji.
She started by talking about how one should keep in mind his physical and mental well-being. She talked about the need and importance of sleep. She talked about how sleep boosted your spiritual, physical and mental life and how a teenager required 6-8 hours of sleep per day. She also informed us about the various reasons like depression, peer pressure, etc. that lead people into drug addiction. But, for the other half, she also talked about how one can relieve a person from his drug addiction by giving him good thoughts, getting him indulged in social work, meditation, etc. The posters which they showed also infused us with a lot of information regarding the harmful effects of these drugs. They cause cancer, and a variety of harmful diseases. Every cigarette a person smokes reduces 6 minutes from his life. Tobacco kills a lot of people, so much so that the amount of people who died due to tobacco is greater than the total people who died due to accidents, cigarette, alcohol, drugs added. She also talked to us about the new thing the civilians, mainly younger ones are getting addicted to – Mobile phones. She said how they strain our eyes and how some harmful radiations are emitted by them. The workshop was a very informative one which filled the students with a lot of facts regarding drug addiction, it's causes, it's harmful affects, reasons why people persue it, and most importantly - how one can overcome it or help others overcome it.
Tree Plantation Drive: An Initiative By Ramjas School, Sector IV, R K Puram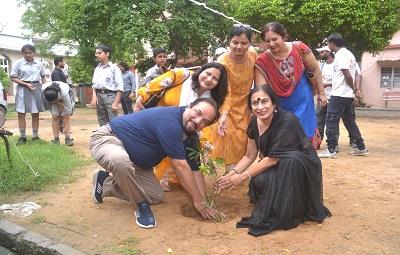 Eco club and Interact club of Ramjas School, R K Puram organized Mega Tree Planation drive on 28th July 2018 at Sector 4, R K Puram, New Delhi. The event was organized in collaboration with Gautam Gambhir Foundation, Resident Welfare Organisation, Sector 4, R K Puram and Rotary Club, South East Delhi. Occasion was graced by the presence of CEO Mrs. Priyanka Raifrom GGF, Mr. Shahid from "Give the Tree" trust associated with GGF, Councillor Mr. Bhagat Singh Tokas, President Mr. Surinder Kumar, Ex MLA Mr. Anil Sharma from RWA, Sector 4, R K Puram and members of Rotary club were among some of the dignitaries.
Eco Club students presented skit based on the theme "Saving the Mother Earth by Planting Trees". More than 400 students from classes 6th to 11th participated in the rally to create awareness about planting trees and protecting Environment. More than 300 trees of varieties such as Doon Cirus, Moringa, Champa, Chilbil, Peepal, Pilkhan, etc were planted by the dignitaries, school Principal Mrs. Rachna Pant, students and residents of Sector 4, R K Puram. Saplings were also distributed to the residents and teachers for planting in their neighborhood areas. Eco Club students also distributed paper bags to the shopkeepers of sector 4, R K Puram to reduce the use of plastic bags. It was an initiative towards the greener planet and to conserve nature. Residents and students took oath to protect the saplings to become trees.
The program was a grand success and all the dignitaries present appreciated the efforts of the school in the direction of environmental conservation. The residents also assured to take this drive forward.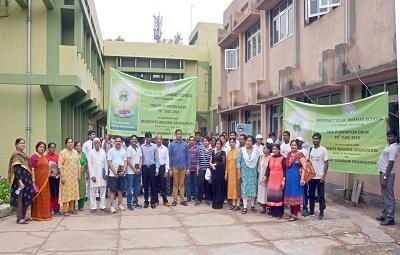 A Run to Beat Plastic Pollution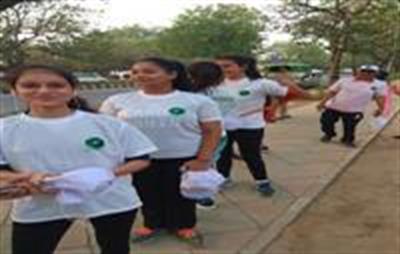 On 03.06.18 students of Ramjas school Sect 4 ,R.K Puram participated in in minimarathon "ENVITHON" . Its theme was to "RUN TO BEAT PLASTIC POLLUTION". Marathon was organized by Deptt of Environment,Forest and climate change on account of World Environment Day
on 05. 06.18. Students assembled in the school premises at 5.00am in the morning and reached the venue at Vinay Marg sports complex. It was a great site to see the enthusiasm and fervour among students and their parents. Mr. Mukesh and Mr. Nitin from the school accompanied students. Many dignitaries from Deptt of Environment and Forest motivated students in combating plastic pollution.
It was a great step by the students, their parents and exstudents to make this event a big success and to spread awareness about plastic pollution.