Student Article
/ Wrestling
Kavita Devi: An Inspiration For All The Women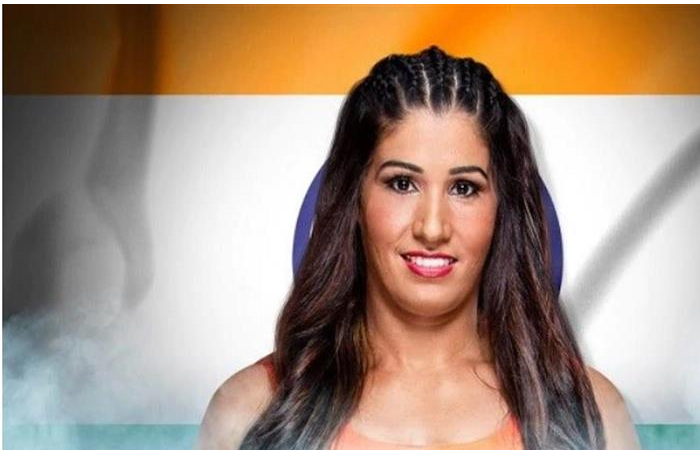 Assistant Editor
02 Nov, 2018
Wrestling is a weaponless combat activity which involves two competitors. It is one of the oldest forms of combat originated 15,000 years ago. Practiced in various styles, this sport can be categorized majority into three categories: belt-and-jack styles, catch-hold styles, and loose styles. It can also be categorized as per the five basic criteria required for winning: break-stance, toppling, touch-fall, pin-fall, and submission. This sport was probably the most popular sport of the ancient Greeks. Being part of the Olympic games from 776 BCE, it is a very famous sport. In India wrestling is also known as Pehlwani which has been a part of India's great culture for about a thousand years. With great history, India also has great sportspersons who participated in this sport by making use of various techniques. Some failed to earn success but some reach on the top because of their determination and strength. This sport is not everybody's cup of tea. It requires diligence, hard work, and a lot of practice. Very few among all are able to make it through the tough competition. Indian wrestlers have beaten many of the best wrestlers in the world and are still doing so to reach the highest level of the sport. Not only men, but women also participated and loved this sport by achieving great successes. Indian wrestlers not only won medals but have also made India feel proud with their unwavering strength. One of the many women wrestlers in India who gain popularity through her skills, power, and training is Kavita Devi.
Born on 20th Sept 1986, Kavita Devi is an Indian professional wrestler and the first female to wrestle in WWE. Her hometown is Malvi village, Julana tehsil, Jind district, Haryana and her birth name is Kavita Dalal. She has done her schooling from Govt. Girls Senior Secondary School, Julana. She is from the Jat community and dairy products are her favorite food. She has done graduation in arts and after completing it, she joined Sashastra Seems Bal (SSB). She was recruited there as a constable. She left her job as a Sub-inspector at SSB in 2010 to concentrate on her sports career.
She is married to a volleyball player Gaurav Tomar who is from Baghpat, Uttar Pradesh. He also works at the Sashatra Sena Bal. Devi has fulfilled all her responsibilities not only in wrestling career but also in her personal life. She has a 5-year old son named Abhijeet who is her source of inspiration and motivation for the continuation of her training. Her in-laws have been super-supportive. Her husband gave up his own career to support her completely and made her success his primary goal. Kavita credits her husband and her in-laws for being her pillars of strength. Her father-in-law is also a sportsperson, a former Kabaddi player. He has always encouraged his children to earn success in sports.
Devi has represented India in international competitions and won gold in the 75 kg category at the South Asia Games 2016. She made her debut for the promotion accepting the open challenge of B.B. Bull Bull. Teaming with Sahil Sangwan in the match against B.B. Chul Bhulli and Super Khalsa in the first mixed tag team match on 25th June, she was given a new ring name Hard KD. The Great Khali is the main inspiration that has made her a professional wrestler. She has wrestled previously on the independent circuit where her ring names were called by Kavita or Hard KD. She is a very strong wrestler trained under The Great Khali at his academy in Punjab.
Hard KD was selected as one of the participants for the Mae Young Classic tournament on 13th July. WWE on 15th Oct 2017 announced about her contract according to which she will start training at their Performance Center on Jan 2018. WrestleMania 34 showcased her first appearance on 8th April 2018 in which she made her WrestleMania debut while competing during the inaugural WrestleMania Women's Battle Royal. Sarah Logan eliminated her in this match. Teaming with the evil Aliyah, she made her NXT Live event debut as a heel against Dakota Kai and Steffanie Newell. Against a returning Kaitlyn, she lost in the first round of Mae Young Classic in 2018.
The story of Devi's life is truly inspirational and motivational as she has gone through a tremendous amount of struggle to reach where she is today. Being an Indian woman, it becomes even more difficult to achieve the dream of being in the WWE but she achieved it with all the support, courage, and determination. Kavita claims that she is still not satisfied despite all her successes. We can hope to see her at the Mae Young Classic so that she can be signed up by WWE. Mae Young Classic is the first ever WWE tournament for women and is a single-elimination tournament where 32 of the top female competitors across the globe will participate. Canyon Ceman, the Vice President of WWE Talent Development, was impressed by the performance of Devi at WWE's Dubai Try-Out. He said that she is an extremely strong woman and an athletic who displays a solid grip of the sports entertainment fundamentals. She has a passion to keep improving which will be the reason of serving her well in WWE's upcoming Mae Young Classic tournament.
Apart from Kavita Devi, there are other Indian wrestlers as well who gain popularity and success like Ghulam Muhammad or The Great Gama, Dara Singh, Udey Chand, Sushil Kumar Solanki, Sakshi Malik, Geeta Phogat, Jatindra Charan Goho, KD Jhadav, Yogeshwar Dutt, and many others. All these focussed and successful wrestlers have made India and Indians proud.
By: Preeti Narula
Content: Wikipedia