for any query please contact Phone: +919717023501 Email: info@fairgaze.com
About this webinar
Illustration Art
You all must have heard about the calligraphy, mandala art but ever heard about the illustration art? Well, many of them who have a great interest in art must have heard about it.
The illustration is basically throwing light on something. It is a visual translation of a specific idea, content, or procedure. It's a picture that targets supporting, explaining, or in any event, expanding the thoughts that individuals get from the other wellspring of data, frequently given as the content.
As the years progressed, delineations have been coordinated into different print stuff like books, magazines, papers, banners, flyers, instructive materials. Afterward, the field got another breath with kid's shows and video creation. What's more, as of late, innovations and instruments pushed the cutoff points opening the hour of computerized illustration.
Webinar Facilitator
Ms. Charu Sharma
Illustration Art
Ms. Charu Sharma started her career at the age of 32 when she opened her very own institute called 'Little Creations'. She's been teaching and preaching art for about one long decade. She is a certified and accomplished artist, studied at Pracheen Kala Kendra. Presently, she is working with Glenkoan Publishers on an art book series called 'Colour Tech'. She also has experience in judging art competitions and events in several schools in Delhi. She loves to connect with children over art. She has a diverse creative hand and excels in various art forms like Oil paint, Quilling Art, Oil Pastels, working out of waste, and whatnot. Her main source of inspiration is and has always been nature; she connects with Art over nature. Her idea of Art is to see the beauty in flaws and that is what one can see is reflected in her paintings.
Benefits Of Webinar
Illustration helps in communicating something dynamic : Once in a while, the nature of the thought or idea you're attempting to pass on will decide if the illustration is the best strategy. Conceptual subjects, or points where explicit visuals don't ring a bell, will frequently loan themselves better to an illustrative treatment.
You need to recount to a story : The illustration is incredible for taking individuals on an excursion, regardless of whether you're truly scrolling individuals through a story utilizing outlined scenes or characters, or developing a subtler account across different touch points.
With illustration, you have little information to visualize : Infographics have completely blasted in fame throughout the most recent decade, with visual sharing stages, for example, Pinterest and Instagram assisting with spreading the most captivating and interesting models far and wide – albeit some of them do extend the meaning of 'infographic' to some degree.
Illustration brings a specific style : The illustration can bring together a plan and thoroughly change its look, feel, and state of mind – regardless of whether it's a multi-stage crusade, a progression of designs for an occasion, or a basic handout. Furthermore, this is the place picking the correct style – regardless of whether you're appointing bespoke illustration, or examining stock resources – is foremost.
Webinar Stats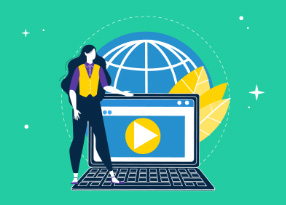 Reach: 5975
Engagement: 605
Website Sessions: 1016
Registrations: 274