About this webinar
Caricature Webinar on PM Modi and his Janta
The Coronavirus lockdown came seemingly out of nowhere and led us into our caves. The times are such that we are barely allowed to go out and have weaved ourselves cocoons of boredom. The sudden change of life can be a bit overwhelming but we can turn the table and make this lockdown fun by trying out new art such as Caricature art! Caricature Art's main motive is simply to make you chuckle. It's a way to distort the basic essence of a person in a still recognizable form. They're often used in politics as well.
In this webinar wherein you'll learn about Caricature art. This art is probably the simplest and the funniest of all kinds of Art that there are. A Caricature is basically a rendered image showing the features of the subject in a simplified or in an exaggerated way through pencil strokes, sketching, etc. It's a fun activity for both children and adults, it doesn't require perfectionism. You'll be amazed to know how easy and fun this could get. Caricatures are wonderful gifts as well since at such a time you cannot purchase gifts, you can always make one! So, grab your pens, pencils or markers and be ready for some fun doodling!
Speakers/Mentors
Charu Sharma
Art & Craft
Charu Sharma started her career at the age of 32 when she opened her very own institute called 'Little Creations'. She's been teaching and preaching art for about one long decade. She is a certified and accomplished artist, studied at Pracheen Kala Kendra. Presently, she is working with Glenkoan Publishers on an art book series called 'Colour Tech'. Also, she has experience in judging art competitions and events in several schools in Delhi. She loves to connect with children over art. She has a diverse creative hand and excels in various art forms like Oil paint, Quilling Art, Oil Pastels, working out of waste, and whatnot. Her main source of inspiration is and has always been nature, she connects with Art over nature. Her idea of Art is to see the beauty in flaws and that is what one can see is reflected in her paintings.
Benefits Of Webinar
Innovativeness And Thinking –Art and drawing support an imaginative point of view in your cerebrum that makes you think outside about the case. It expands your critical thinking aptitudes and draws out the innovativeness that might be disappearing in you.

Eases Pressure And Nervousness –Drawing can be mended for the psyche and soul. When all is said in done, getting a charge out of drawing and workmanship likewise can be a pressure reliever since it causes you to escape your genuine issues.

Confidence Support –Completing a drawing gives you a sentiment of accomplishment and doing this as a side intrigue can make you a prevalent skilled worker. Drawing progressively more is practice, which in this way will bolster your certainty.

Viewpoint –It gives you a substitute perspective on life. By drawing, you're imparting your sentiments and insights through visuals on paper. By watching others' art, you're a partner with the specialist in a sudden way in contrast with some other individual since you may have a substitute slant of the piece.

Compassion –With perspective, seeing skilled workers' work will give you compassion and love. We, in general, express our sentiments and contemplations in a substitute way, and the way wherein we decode those pieces will give us a substitute cognizance of people and culture.

The future extent of cartoon -Advertising ventures and cartoon film creation focuses need capable artists who can use their drawing aptitudes with a lot of cutting-edge programming to deliver energizing animation shows, films, and animated commercials. In this strategy, explicit edges are made by sketching or computer designing, and they are utilized for making animated motion pictures without utilizing any camera or genuine articles ever. There are different occupations and work profiles that are assigned to the colleagues making enlivened kid's shows. 3D animations are likewise getting famous because of the sheer intrigue and visual quality they have. Particular PC programs are used to make entrancing 3D animations. To make full-length animation films, many artists are required.

A two-year program in animations from a reputed arts and animation school will furnish an up-and-comer with character advancement, development, modelling, and 3D movement. The course will likewise prepare you to utilize mainstream movement programming to make activity and other special visualizations.
Webinar Stats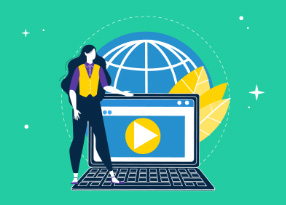 Reach: 3105
Engagement: 1398
Website Sessions: 337
Registrations: 0