About this webinar
Let's be the change-maker to the environment
"Save nature if you care for the future. Nature is like out mother like nature there is no one other. for all the facilities she will shower, nature is the strongest power. Will we be able to replenish it ever?" A healthy environment is an asset the present generation has to happen to receive. Although, in the last few decades, the rate of environmental degradation has increased leading to concerns about what kind of environment we are leaving for our future generation.

As we all know, 5th June of every year is seen as World Environment Day. Access to a healthy environment s one of the basic human rights. Every individual is entitled to enjoy fair access to a sound, pollution-free environment. Yet, seeing from the present situation, the environment which we are leaving for the future generations is not adequate. Hence, we need to find out a way to improve the condition. For such a change, definitely, we need dedicated change-makers and we find students as the finest changemakers. The children of today will make the society tomorrow. Hence, developing a strong foundation and awareness around environmental issues in school children is highly important.
Hence, we take this World Environment Day as an opportunity where we can discuss how can we act as change-makers for the betterment of the environment.
Speakers/Mentors
Durgesh Gupta
Founder Green Yatra
Durgesh Gupta is an Environmental - Sustainability Consultant and a practicing Lawyer. He has been actively fighting before NGT, Supreme Court on Environmental Issues. He has filed several PILs on Environmental issues before the Supreme Court. He has been providing legal support and pro-bono legal advice to many indigenous litigants and to date registered more than 5000+ Non-profit organization for free. His beliefs in making this beautiful Earth a sustainable, greener, and better place to live for all.
Benefits Of Webinar
* Before moving on to any solution, the root causes of a problem should always be considered. The students will get to know the major issues and reasons behind environmental degradation.
* We stand at the cliff of climate emergency. We face issues of water scarcity, air pollution, and so on. The session will have a brief discussion about what are the other environmental issues that need immediate attention.
* The session will help students in gathering enough information about what are eco-friendly measures they can adopt on a daily basis to ensure a safe and healthy environment.
* There will be a brief discussion around the emergent need for sustainable development measures to save the environment? It will talk about why people all around the world show focus on a development that doesn't disturb the ecological balance of nature.
* Last but not least, it will focus on how can students contribute to bringing a constructive change in the present condition of the environment? The first and foremost step to ensure a change is adopting a change. The session will be extensively discuss what changes do we need to thin and adapt to become a change maker for the environment.
Webinar Stats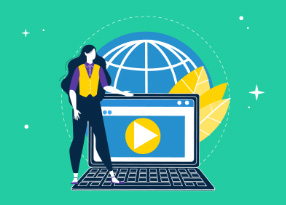 Reach: 5969
Engagement: 754
Website Sessions: 1016
Registrations: 521