Student Article
/ English
Clean India Green India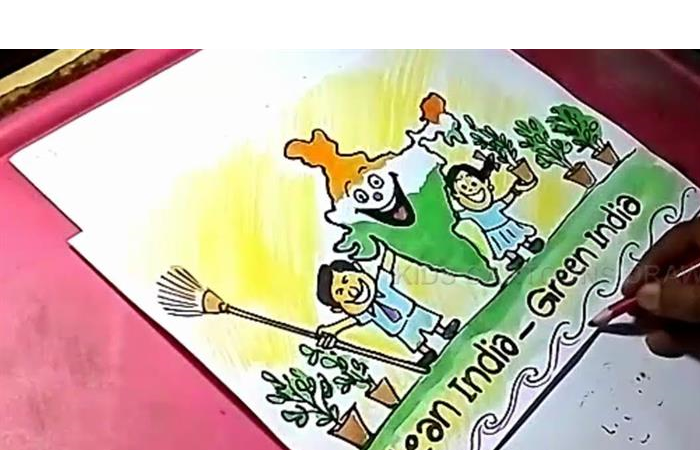 Assistant Editor
10 Nov, 2018
Clean India Green India
We all know the proverb "Cleanliness is next to Godliness." Yet, we Indians have never followed cleanliness properly. There are many benefits to keeping ourselves and our environment clean.
A clean environment helps save endangered species from going extinct. We can breathe clean air, and there will be fewer hazards. By having a clean environment, we can have a steady supply of food, water, and many natural resources like wood to create various products. Thus, making India green must become the mantra of all the citizens.

In this endeavor, the government under the leadership of Prime Minister Narendra Modi launched the Clean India Green India mission. It has two components, the Clean India and the Green India component.

Under the Clean India component, the government wants to make India clean and hygienic. To this end, the government had launched the Swachh Bharat Abhiyan or Swachh Bharat Mission (SBM), a nationwide campaign. The mission aims to clean up the streets, roads, and infrastructure of Indian cities, towns, and rural areas.
The Green India component involves conserving greenery in the country and protecting the natural environmental beauty. The major goals under this component are increasing forest or tree cover in the country to over 5 million hectares and improving ecosystem services like carbon sequestration and storage. The Green India component ultimately aims to reduce the burgeoning air pollution in the country.
Clean and Green India
Clean India Green India should become the dream of every Indian citizen. The mission is a perfect development movement for India as it envisions sustainable development for the country.
With the launch of the Swachh Bharat Mission, many in India have taken cleanliness seriously. People began cleaning their surroundings every day and also correctly disposing of the garbage. Still, we see many people taking cleanliness lightly.
We all know the beginning of anything needs a kickstart. The best way to begin this cleanliness drive is by cleaning our own homes first. Then we can collaborate with our neighbors and clean the surroundings of our society.
As part of the Clean India Movement launched by the government, it began sanctioning loans to support the purpose of building toilets. This is to make India open defecation-free. Open defecation is a dreaded habit of Indians that makes our surroundings unclean and unhygienic.
The government subsidized the cost of the raw materials for toilet construction. It had also connected the borrowers with contractors to hasten the toilet building process.
Some Steps We Should Take for Clean India green India Project
We as humans can take a few basic steps like carrying a recycle bag when we go out of our house and not throwing garbage here and there. This will reduce the consumption of disposable bags, and we will not litter the environment. Similarly, we can encourage using reusable items like bottles, cups, etc., which reduce littering. Also, ensure that the waste you dispose of ends up where it should.
Wherever possible, recycle the recyclable materials. Make sure to reduce the likelihood of your garbage ending up in the environment by keeping a lid on your trash cans when it's outside. Composting kitchen waste at home lowers the garbage volume sent to landfills and reduces the chance of some products becoming marine debris.
With an unhealthy environment, problems arise that affect the whole ecosystem and others around us. We all know the adverse effects of air pollution, acid rain, and others that occur due to environmental pollution. With timely interventions like those mentioned above, we can keep our environment and surroundings clean.
Green India
After cleanliness comes the preservation of the environmental beauty. What more is beautiful than a surrounding with lush green trees, grass, and many other small plants?
The Clean India Green India slogan states that if we try to keep our India clean, it will become green by cleaning our environment and our surroundings. Green India's mission is all about the environment. The focus of the mission is to stop deforestation and increase the number of trees in India to decrease pollution.
Deforestation can be reduced by promoting lesser use of raw material from the forest. We can bring a change to our forests by growing trees and small plants.
Green India also tackles the climate change problem. By growing trees, the government aims to reduce greenhouse gases which are the reason behind global warming and climate change. Not only this, the Indian government has altered its economic and energy policies to become more environmentally responsible.
Greenery in India is of importance, as it helps in nation development and reduces air pollution. By having lush green forests, the air gets purified. Forests also minimize the impact of natural disasters in the nation. Further, high forest cover helps in maintaining the ecological balance.
Initiatives We Must Take
We can take various steps to increase the forest cover in the country. One step is to increase the number of trees in the cities to fight against the various environmental problems, especially air pollution. The next important step is to preserve the existing greenery in the cities.
The government can play an important role here. It must act strictly and take measures to prevent deforestation. It can take actions like creating a forest belt near every city or town. Ultimately, we all can make a difference through mass forestation drives.
War on Climate Change
Climate change will destroy humanity in the coming decades if we do not act now. Clean India Green India is thus a war on climate change initiated by the Indian government.
The mission will help handle greenhouse gases and tackle air pollution, the biggest reason for death in the country.
Recently, some state governments took charge of the war on climate change and banned the sale of firecrackers in the face of Diwali.
If the environment is not clean, humans can never be healthy. As individuals, we have the potential to make a big difference, and together we can change the world. Once our India becomes cleaner and greener, it will be beneficial not only for us but for our future generations too. They can live in a purer and healthier environment. It would be our best gift to them. Let's aim for a better, cleaner, and green India and work together to achieve it.

Objectives of Clean India :
To reduce or eliminate open defecation by constructing individual, cluster, and community toilets.

To convert the insanitary toilets into flush toilets

To eradicate the system of manual scavenging

Establishing a better mechanism for monitoring the work of the government

Get India Open Defecation Free (ODF) by October 2, 2019

Development through Cleanliness

Assisting production centers for sanitary materials and rural marts for sanitary

Management of solid and liquid waste treated as a project for Gram Panchayat

Creating awareness for healthy sanitation practices with behavioral changes and linking people with the programs of sanitation and public health

Building strong urban local bodies to design and execute all systems properly

Use of the scientific process of disposal, reuse, and recycling solid waste

Providing a better environment for private sectors to participate in the Capital Expenditure related to the clean campaign

The Clean India program is:
Unique: Because of the involvement of children and youth

Scientific: Because it is equipped with scientific techniques

Innovative: Because there is a structured framework to address the needs

Inclusive: Because of the involvement of other stakeholders

Holistic: Because it addresses the entire value chain

Regular: As it creates an environmental movement along with scientific learning with civic action

Effective: Because it creates Eco citizen

Goals of Swacch Bharat Abhiyan
1- Behavior change
A nation is built of people. So, it is necessary to change people's attitudes towards the combat on sanitation. The change should be in a rational way. There should be adequate budgets and campaigns that put Panchayat and rural communities to achieve the best in sanitation.
2- Specialized Project Management Agency
There should be a "Special Purpose Vehicle (SPV)" that acts as a specialized Project Management Agency for all the water and sanitation projects. It should also prepare District Project Reports and process Public-Private Partnership (PPP) and Corporate Social Responsibility (CSR) projects.
3- Incentivizing State and Local Governments
Central Government should sign Memorandums of Understanding (MoU) with State governments, where they commit to doing their part to achieve Swachh Bharat. These should be accurately done, and implementation must be from rural to urban levels.
4- Tracking Toilet Use
An annual Survey of Toilets should be done for tracking how many households are using toilets, and there should be a penal system for t, he misuses. There will be Nirmal Gram Puraskar by Swachh Bharat Puraskar (SBP) to attract people to the completion of this mission.
Also Read :