Student Article
/ English
The Pen is Mightier Than the Sword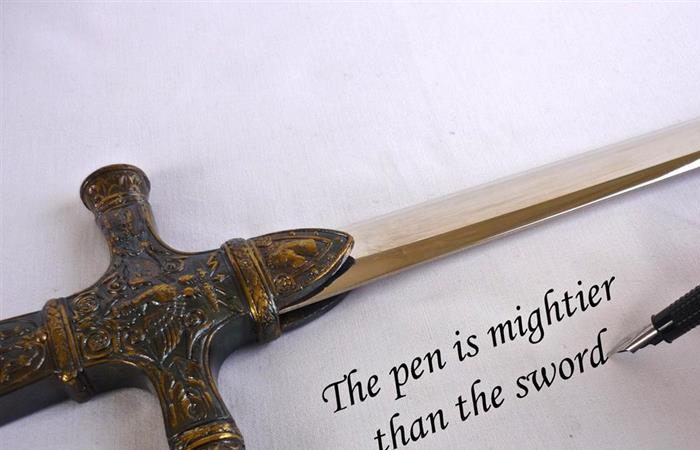 Assistant Editor
22 Nov, 2018
Coined by English author, Edward Bulwer-Lytton in 1839 in his play The Conspiracy, this phrase indicates that communication is a more effective tool than direct violence. The play took place in London's convent garden with William Charles Macready in the lead role. The manufacturer of gold pens Levi Willcutt during a Railroad Jubilee in Boston, Massachusetts, showcased this phrase as a motto in September 1852.
The power and strength of a pen are surely larger than the sword because what cannot be achieved by the sharp edge of a sword can be achieved by a minute tip of a pen. It simply implies that writing has enormous power and it is much more powerful than hatred, fighting, and war. A war can never have a peaceful ending rather it only has a single directional ending leading to defeat, loss, and death. There can never be any light at the end of the tunnel of war as it always ends up in so many killings, wounds, blood, and pain. On the other hand, writing is priceless. We can never payback for the stories we have been told by our grandparents, parents, elder siblings, and teachers. Our childhood storybooks and comics cannot be paid back at any cost. The learning they gave us and the legacy which is carried from generation after generation seems minuscule with a huge return. There are so many examples that we read in our childhood that stay with us till our last breath like the power of unity which we understood by the story of a wooden stick versus a bundle of wooden sticks. One more such story of tortoise and rabbit is unforgettable which depicts that slow and steady wins the race. It all lies in the power of words which leave a great impression on our minds.
You must have read a lot of quotes from books like "Books are the best companion", "Books are the way to the truth", "Books are the treasure house of knowledge", and many more. Books are great companions who never leave us alone. They give us the freedom to think, explore, and discover. They make us fearless and are considered the most effective way to learn about anything from travel or food to spirituality or astrology. With books, you can begin a journey that will never end.
Mahatma Gandhi, Swami Vivekananda, Plato, Adam Smith, Marx, and Stowe are some of the great writers who have successfully demonstrated the power of writing. Likewise, our past and present are full of fascinating examples which have contributed to changing and transforming the world. They make people think, cry, and act. Breaking the demographic barriers, the writings of writers brought many changes across the globe by fighting against Sati Pratha, Child Abuse, Girl Child Killing, Childhood Marriage, Dowry, Education and work barriers for females, slavery, begging, overpopulation, malnutrition, and many other social issues. These writings on such important and sensitive social issues came into the limelight and can stir the whole world with the power of words.
Words are effective enough to build as well as destroy kingdoms. From creating peace during wars to creating wars, words have all the power if used in the right direction. They unite the entire world to fight against any evil. The effect of a fight impacts a handful of people, of a war, impacts thousands to lakhs of people, but a book can shake the entire globe. From turning darkness into light, slavery into freedom, dumb into speech, weakness into power, to poor into rich, words create a powerful and influential impact on everybody.
The power of words can also be experienced in the business sphere. For startups, getting the attention of investors and customers is not only about tech. It's about how strong, engaging, and impactful the message in which you are delivering to the world is. Describing and showcasing your product in the large markets need to be perfect for getting people involved. It's all about the story on which the investors focus. It's about the message about the results and benefits of the products and services you are offering.
One more sphere which has portrayed the strong influence of writing is blogging. Blogs are to express your thoughts and communicate with the world. You must remember the speech of Martin Luther King Jr. which changed the perception of American society toward black people. One more great example is Barrack Obama when he said: "Yes we can". It all exists in the language which creates a negative as well as positive atmosphere. Readers across the globe seek a decent piece of work that features quality despite quantity. Another approach that requires to be carried out is story writing. Setting up the plot is one of the vital things which is responsible to a great extent for a successful fiction novel. If your storyline is attractive then it will surely draw people's attention more than any other ordinary scenario. Compare these two titles - "School life" and "My school life with an alien". The second title certainly steals the show. So it's the magic of words that creates an immortal impression on the minds of the readers. In article writing, one of the most important factors which make them impressive is the pitch of words. Formal writings are written in a different way and casual writings in another way. So, before starting writing you need to understand the pitch of your write-up and the purpose of your words.
By: Preeti Narula