All About IELTS and SAT - FairTalks
30 Jan, 2023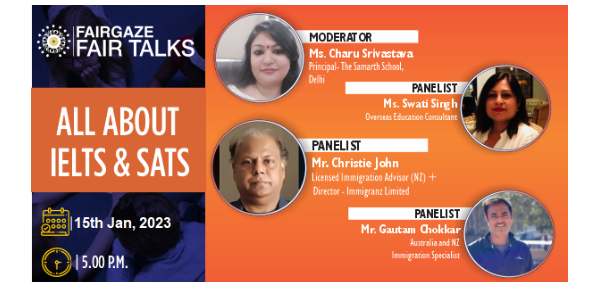 Summary: FairTalks, a research-backed session organised by FairGaze, was hosted recently on the topic "All about IELTS and SAT" with domain experts and professionals sharing their thoughts.
New Delhi, 30th January 2023: Fair Talks, a research-driven panel discussion by school education experts organised by FairGaze, was hosted recently on the topic "All about IELTS and SAT" with domain experts and professionals sharing their thoughts and experiences.
The recent FairGaze research revealed some very interesting trends. Over 64% of the respondents are aware of IELTS and SAT and about 50% are aware of the eligibility criteria. However, more than 64% opined that SAT without any upper limit is a bad practice. Interestingly, over 50% of the respondents find IELTS more important than SAT and an overwhelming 78% agree or partially agree that employers prefer employees who have cleared these tests.
The panelists included Mrs. Charu Srivastava, the Principal of The Samarth School, Delhi who was also the moderator of the session, Mr. Christie John, Licensed Immigration Advisor (NZ) and Director of Immigranz Limited, Ms. Swati Singh, Overseas Education Consultant, and Mr. Gautam Chokkar, an Australia and NZ Immigration Specialist.
Mrs. Charu Srivastava deftly moderated the event and being an English teacher herself understood well the importance of the language as a global language for communication as well as a medium for connecting with new people hailing from varied fields and regions. She also threw light on encouraging students to learn English in the school ecosystem and creating an environment that would facilitate the students in choosing a career for themselves and pursuing it without hindrance.
Mr. Christie John highlighted the importance an IELTS score carries when migrating to an overseas country. An Indian student moving overseas needs to make sure to adapt and try to integrate. He also put emphasis on how important it is to do your homework and know the teaching style priorly. When moving overseas it is equally significant to be culturally sensitive, build long-lasting networks and encourage questions alongside the completion of the academic curriculum.
Ms. Swati Singh shared about the relevance of giving SAT and wondered if IELTS is valued more than the prior in recent times. She shared that SAT is mainly for students who are looking forward to moving specifically to the US and there is a need to prepare for at least 3-4 months to ace the exam. There are many universities that are removing the mandatory check on SAT, so it has lost its importance and students should focus more on improving their IELTS scores. The school counselor should be well aware of the plans of a student to give SAT to assist him/her.
Mr. Gautam Chokkar shed light on the mindset of the universities while selecting candidates and giving a student visa. He shared an astonishing fact that universities in the USA sometimes choose candidates because of a high IELTS score even if they have an average SAT score. Considering how SAT is slowly becoming optional, candidates who appear for it should have a higher score (not an average of 1300-1400) to make it a plus point in their application/ resume.
The FairTalks concluded with Ms. Charu Srivastava thanking each panelist for sharing their thoughts that will help the youth to prepare better for such competitive examinations.
FairGaze is the leading school media and an engagement ecosystem for holistic development, which works with various stakeholders and policymakers, including organizers of premium events associated with the education industry. FairGaze engages with over 350,000 students from over 13,000 schools across India. FairGaze works with schools to help manage their newsletter, conduct holistic development programs, SDG activities, MUNs, promote the sports and cultural functions of the schools, and recognize the achievements of the students.