Studying Abroad More Than Education - FairTalks
27 Oct, 2022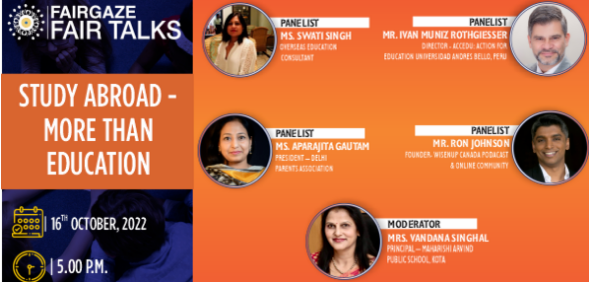 Summary: FairTalks, a research-driven panel discussion by school education experts, explored the zeal, reasons, and challenges to studying abroad among school students more than education, with professionals and domain experts sharing their analysis.

New Delhi, 27 October 2022: FairTalks, a research-driven panel discussion by school education experts looked at the zeal, which stood at over 80% among the school students, and the challenges it entails. A recent FairGaze research reveals that more than 88% agree that studying abroad gives students global exposure and makes them independent. Not surprisingly, more than 59% opined that studying abroad requires huge funds but 69% of respondents believe that employers prefer candidates who have studied abroad. Interestingly, an overwhelming 87% agreed that 21st-century skills can be possessed by any individual, whether they study in India or overseas and over 80% of the respondents believe that students look for overseas opportunities not because India doesn't provide quality education. The research also revealed that Canada and USA were the most sought-after countries for education followed by China, Australia, and Russia.
The Panelists included Mrs. Vandana Singhal, the Principal of Maharishi Arvind Public School, Ranpur, Kota who was also the moderator of the session, Ms. Aprajita Gautam, the President of Delhi Parents Association, Mr. Ivan Muniz Rothgiesser the Director of ACCEDU: Action For Education Universidad Andres Bello, PERU, Mr. Ron Johnson, the Founder of Wisenup Canada Podcast & Online Community and Ms. Swati Singh, an Overseas Education Consultant.
Mrs. Vandana Singhal said that exchange has become very common due to globalization and students are getting great opportunities to build their careers and form a better network, which has not only assisted them in exploring different cultures but also in being open-minded toward varied career perspectives.
Mr. Ivan Muniz Rothgiesser highlighted how studying abroad is a great experience in itself and the different countries enrich the student with different cultures and help prepare them for a successful future. He also added that skills like collaboration, networking, teamwork, and creativity boost the personality of students.
Mrs. Aprajita Gautam beautifully brought up the perspective of parents and the reasons that restrain them from sending their children to study abroad. Financial situations, emotional reasons, insecurities, and the urge to keep the children near, play a significant role in their decision who then try to get their children admitted to good institutions in India. She also added that there are many instances of parents falling for scams and thus avoiding sending children abroad.
Mr. Ron Johnson highlighted that no Sundar Pichais or Satya Nadellas would have been possible if their parents were reluctant to send them abroad. He also added that skills are the need of the hour and there are many stories of kids and teenagers becoming millionaires with their initiatives and startups.
Ms. Swati Singh, well acquainted with the study abroad industry, urged the audience to be well-versed with the scenarios of different countries while exploring the idea of sending students overseas to study. She added that with constantly changing policies and structures, it becomes crucial for parents to not go with the stereotypes and define the needs before deciding the best country suitable for their children and include new options like South Korea, China, Russia, etc.
FairGaze is the leading school media and engagement ecosystem for holistic development, which works with various stakeholders and policymakers, including organizers of premium events associated with the education industry. FairGaze engages with over 350,000 students from over 13,000 schools across India. FairGaze works with schools to help manage their newsletter, conduct holistic development programs, SDG activities, and MUNs, promote the sports and cultural functions of the schools, and recognize the achievements of the students.