Back to School: Are We Ready
22 Mar, 2021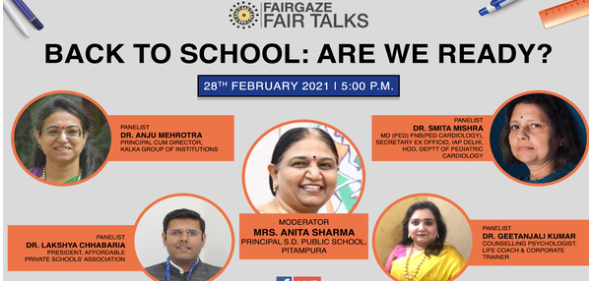 Summary: School reopening has opened up a plethora of challenges ranging from the safety of students to the concern on the loss of the academic year. In spite of the many measures taken to ensure safety and the school community largely favouring the reopening of schools as per the recent survey conducted by FairGaze, getting students back to school remains a challenging task.
New Delhi, 22 March 2021: The reopening of schools has been a burning topic amongst students, parents, and school authorities. Though measures have been implemented to ensure 100 percent safety, there are many issues that are hindering the reopening of schools. The recent episode of FairTalks deliberated on this issue with eminent panellists which included Dr. Lakshya Chhabaria, President of Affordable Private Schools Association, Dr. Anju Mehrotra, Principal Cum Director of Kalka Group Of Institutions, Dr. Geetanjali Kumar, Counselling Psychologist & Life Coach, Dr. Smita Mishra from Deptt of Pediatric Cardiology.
The research conducted by FairGaze, though an overwhelming 91% of respondents insists that schools should ensure a Covid-safe environment, 73% agreed that delay in the school reopening may pose hindrances in later academic years of students and over 82% concur that practical learning will suffer while over 73% believe that delay may also impact the pace of completing the curriculum.
While 89% agreed that ensuring safety is a shared responsibility between the parents and the schools, 48% do not agree with an increase in school fees by adding Pandemic Fund and over 67% opined that blended learning should be adopted.
Speaking on the research findings, Dr. Chhabaria reinstated that the school community is favouring the reopening of schools. Dr. Mehrotra endorsed Chhabaria's statement and added the learning gap due to the lockdown needed to be urgently addressed. Shared her thoughts, Dr. Mishra stated that the school community needs to appreciate the additional resources required to ensure safety during the conduct of in-class education. Dr Anju Mehrotra added that the Corona pandemic exposed the broken system and the urgent need to redesign, redefine and restructure to make the education system more resilient to such challenges.
Dr. Geetanjali Kumar highlighted the increasing cases of OCDs among the students and other challenges like the inability to concentrate and engage on-screen and this can be overcome by tapping into their vast resilience to get back to new functional routines and help them with better emotional wellbeing.
FairGaze is the leading school media and an engagement ecosystem for holistic development, which works with various stakeholders and policymakers, including organisers of premium events associated with the education industry. FairGaze engages with over 350,000 students from over 13,000 schools across India. FairGaze works with schools to help manage their newsletter, conduct holistic development programs, promote the sports and cultural functions of the schools and recognise the achievements of the students.