Blended Learning in Schools, a Post Pandemic Reality
26 Dec, 2020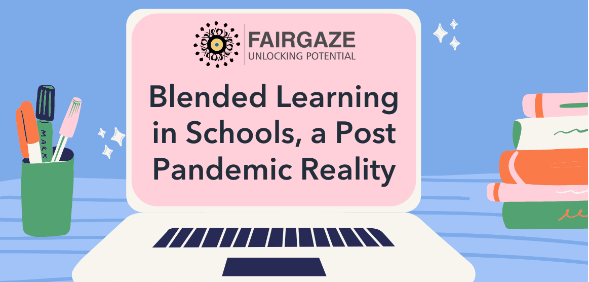 Blended learning, i.e. online and classroom teaching model of schooling, which was the prerogative of the privileged few is now the standard in education which has to potential to boost social mobility to the underprivileged. Though the online learning were considered temporary compensation to the classroom learning, the blended learning seems inevitable.
In the recent episode of Fair Talks eminent panellists including Dr. Ragini Kaul, Principal of Maxfort School, Dr. Amrita Vohra, Director of Education for GEMS Education in India and Executive Principal of GEMS International School, Mr. Kanwaljeet Khungar, Principal of Bharat National Public School and Dr. Rachna Pant, Principal of Ramjas School who was also the moderator of the session, discussed various aspects of blended learning along with Ms. Charu Noheria, Co-founder & COO of Practically, an immersive experiential learning app.
A study conducted by FairGaze revealed that over 68% of respondents are happy with the blended learning model of schooling and over 49% agreed that blended learning will be more interactive than just classroom teaching. However, an overwhelming 84% of the respondents agreed that blended learning requires more time and effort from both the students and the teachers and over 67% of the respondents opined that social skills like manners and good behaviour is difficult to teach online while over 48% respondents felt that blended learning is difficult for students upto to class 8.
According to Dr Ragini Kaul the biggest advantage of blended learning, along with the cost savings, is the possibility to 'pre-engage' with students by sending study materials and assignments encouraging self-study. Dr Amrita Vohra emphasised that blended learning is cost intensive due to associated technology enablement at teachers, students and the school level but highlighted that blended learning encouraged self-learning skills in students.
Asked on the contribution of technology in blended learning, Ms.Charu Nouheria said that technology is core to enabling blended learning and added that technology allows student to engage interactively with the content that increases the retention rate to over 90% compared to less than 20% in the conventional mode. She emphasised the importance given to teachers in the way Practically delivers immersive experiential content to students.
Sharing his thoughts on preparedness required on the part of the school and the students to adapt to blended model of learning, Mr. Kanwaljeet Khungar said that blended learning is the reality ahead and that pandemic has accelerated that process. He added that at the fulcrum of blended learning is the teacher, who needs to understand the nuances of technology and blend it with teacher's own spontaneity. He emphasised that commitment at school level is required to invest and prepare the teachers to enable blended learning a success. Student need to be a co-learner instead of just depending on teacher to deliver learning.
Summarising the thoughts of the panellists, Dr Rachna Pant elaborated on the concept globalised student with integrity and self-learning as opposed to the past practice of spoon-feeding the students. She surmised that the blended learning is here to stay with positive results provided the mindset to adapt and willingness to experiment is encouraged.
FairGaze is the leading school media and an engagement ecosystem for holistic development, which works with various stakeholders and policy makers, including organisers of premium events associated with education industry. FairGaze engages with over 350,000 students from over 13,000 schools across India. FairGaze works with schools to help manage their newsletter, conduct holistic development programs, promote the sports and cultural functions of the schools and recognise the achievements of the students.
Live Webinar On "Taking Classroom to Screens: Blended Learning Post Pandemic"

The COVID-19 pandemic has been rather an opportunity for the education sector to dive into the vast ocean of ideas involving interactive teaching methods. Join this live session and get a chance to listen to the education experts and ask your questions about the changed scenario of the education sector. #FairGaze #FairTalk #schooleducation #onlineeducation #newnormal #schoolspostpandemic

Posted by FairGaze on Sunday, 29 November 2020
CONTACT INFORMATION
Contact PersonMr. Piyush Nayak
OrganizationFairGaze Skills Pvt. Ltd.
Phone+91 9717023501
Emailpiyush@fairgaze.com