FairGaze as the School Media Partner for Eureka! Junior 2020
13 Oct, 2020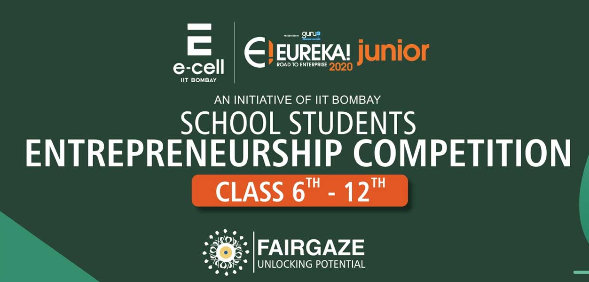 Summary: FairGaze partnered with The Entrepreneurship Cell, IIT Bombay as the School Media Partner for Eureka! Junior 2020 to outreach Indian students globally.
New Delhi, October 13, 2020: FairGaze has partnered as the School Media Partner for Eureka! Junior 2020 an initiative of E-Cell, IIT Bombay for promoting entrepreneurship among school students to shape the future of our country. E-Cell IIT Bombay is Asia's Largest Entrepreneurship-Promoting Student Organisation. Through a series of initiatives, they aim to support and promote entrepreneurship in the youth. They have a reach of over 6000+ start-ups, 1,60,000+ students and 90,000+ professionals in over 900 cities in India and abroad.
Eureka! Junior is a young initiative, which aims to encourage students into creative problem-solving and idea generation. Nearly 2,000 students from across the country have participated in the competition this year and the number is rising steadily. Eureka! Junior consists of 6 major phases, spanning a breadth of nearly 7 months. Students of Classes 6-12 can participate in this competition which has 2 tracks, one for students of Classes 6-9 and another for those of Classes 10-12.
These Phases have been outlined below:
Phase 1: Preliminary Workshops- Series of free online workshops in schools across the country to provide students with basic knowledge of entrepreneurship.
Phase 2: National Entrepreneurship Olympiad consisting of 2 different Question Papers for the 2 tracks, one for Classes 6th-9th and another for Classes 10th-12th.
Phase 3: Registrations will only be accepted online mode until 25th October 2020. While registering, students have to fill out their idea through a Questionnaire. The top 70 teams in each track will become the semi-finalists, based on their idea and their answers to the Questionnaire.
Phase 4: Preliminary Submission- The semi-finalists are required to create a pitch deck before attending the Advanced Workshop, which the participants need to submit in .pptx.
Phase 5: Advanced Workshop- The semi-finalists will have the opportunity to attend an Advanced Workshop for a more advanced understanding of entrepreneurship.
Phase 6: Finals- The finalists will be invited to E-Summit, the flagship event of The Entrepreneurship Cell, IIT Bombay to pitch their idea to a panel of judges and the winners will receive prizes and other incentives.
FairGaze is the largest school media and an engagement ecosystem for holistic development, which works with various stakeholders and policymakers, including organisers of premium events associated with the education industry. FairGaze engages with over 350,000 students from over 13,000 schools across India. FairGaze works with schools to help manage their newsletter, conduct holistic development programs, promote the sports and cultural functions of the schools and recognise the achievements of the students.
Registration Link & Guide: https://fairgaze.com/eureka-entrepreneurship-competition-by-iit-bombay.html