FairGaze at PHDCCI Education Summit 2020 as School Outreach Partner
16 Mar, 2020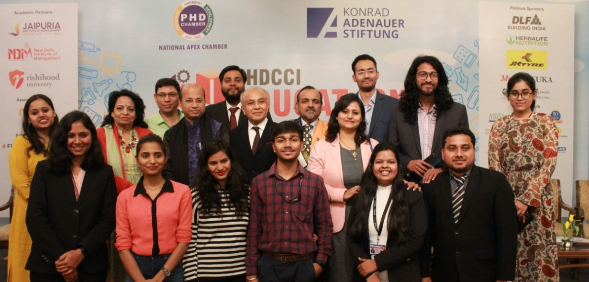 Summary: FairGaze, the largest school media and engagement ecosystem for the school community, was designated as the School Outreach Partner for the PHDCCI Education Summit 2020 held on 27 February 2020 in New Delhi.
New Delhi 16 March 2020: FairGaze was designated as the School Outreach Partner for the PHDCCI Education Summit 2020, a marquee event that sees the participation of the stakeholders of the education industry including schools, colleges, administrative authorities, Government establishments, etc.
The PHDCCI Education Summit of 2020, held at the Taj Mahal Hotel, New Delhi creates an interface of Government, Industry and Academia for the development of a new knowledge ecosystem for making India a $5 trillion economy by 2024-25. Speakers at the Summit included leaders of Sindicatum Carbon Capital, Global Nexus, Skill Council for Food in addition to officials of State Government and leaders of premier institutions who shared their experiences in the mega event. The star panelist included Dr. D.K. Aggarwal, President, PHDCCI, Mr. Alexander Stedtfeld, Economic Counsellor, Embassy of Germany who contributed immensely with their thoughts and experiences on education, skill development and employability to create a knowledge eco-system in India.
FairGaze is the largest school focused media and an ecosystem for holistic development, which works with various stakeholders and policymakers, including organisers of premium events associated with the education industry. FairGaze engages with over 350,000 students from over 13,000 schools across India. FairGaze works with schools to help manage their newsletter to promote the sports and cultural functions of the schools and recognise the achievements of the students.