FairGaze CSR Supported NCC Training App Launched by Defence Minister Rajnath Singh
29 Aug, 2020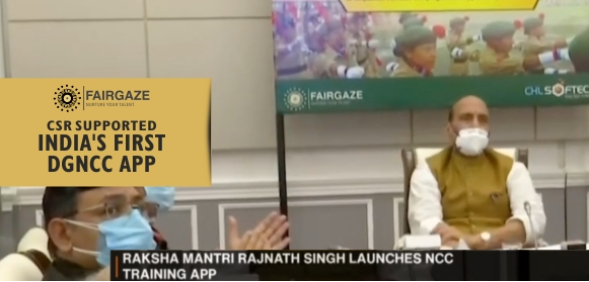 Summary: FairGaze CSR supported DGNCC Training App developed for Directorate General National Cadet Corps was launched by the Defence Minister Shri Rajnath Singh on 27 August 2020.

New Delhi, 29 August 2020: FairGaze CSR supported NCC training app developed by CHL Softech for Directorate General National Cadet Corps was launched by the Defence Minister Shri Rajnath Singh on 27 August 2020. The app will enable resumption of training of NCC cadets, which was restricted due to the Corona pandemic.

Speaking on the occasion, Raksha Mantri Shri Rajnath Singh acknowledged the contribution made by the NCC cadets during national emergencies, including the fight against the Corona pandemic and in the nation building. He added that the launch of DGNCC Training App is yet another step in Digital India to make Atma Nirbhar Bharat by taking the NCC training to the remote corners of India.

D. Ranganathan, Founding Director, FairGaze said, "FairGaze has been at the forefront of enabling and empowering school students and have delivered over 1,000 holistic development programs as part of CSR program benefitting students from schools across India."

Ranju R Pillai, Chief Relationship Officer added, "The CSR-driven holistic development programs delivered by eminent mentors are focused on empowering school students with Creative Thinking, Future life skills and Wellbeing, both physical and mental. The 'Coffee with Counsellor' program enables students to discuss their questions and issues with professional experts. In addition, FairGaze has been engaging with over 14,000 school principals, teachers and parents across India delivering programs enabling them to address challenges posed by substance abuse, internet influences and behavioural issues."

Sudheen M, Co-founder FairGaze remarked, "FairGaze is proud to contribute to the DGNCC, a premier nation building institution. We have been conducting research and studies on burning issues with the school community of principals, teachers, parents and students with a clear objective of addressing their challenges. The result of these studies are discussed and analysed by professional experts on the fortnightly program Fair Talks, which is widely followed by various institutions and media."

FairGaze is the largest school media and an engagement ecosystem for holistic development, which works with various stakeholders and policy makers, including organisers of premium events associated with the education industry. FairGaze engages with over 350,000 students from over 13,000 schools across India. FairGaze works with schools to help manage their newsletter, conduct holistic development programs, promote the sports and cultural functions of the schools and recognise the achievements of the students.
Download the DGNCC Training App, visit https://play.google.com/store/apps/details?id=com.chl.ncc&hl=en
Download the FairGaze App, visit https://play.google.com/store/apps/details?id=com.chl.fairgaze&hl=en
Related links :
https://twitter.com/SpokespersonMoD/status/1298877128344080384
https://twitter.com/rajnathsingh/status/1298873584287277058