FairGaze Fair Talks on 'BOIS LOCKER ROOM: INNOCENT MISTAKE OR CRIME ?'
12 May, 2020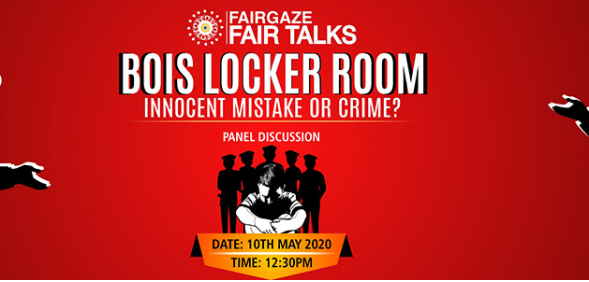 New Delhi, 9 May 2020: Bois Locker Room incident is the news of a chat group of school students from Delhi and Noida who indulged in indecent conversation and shared obscene pictures of girls. This incidence forces everyone to think about issues like sex education, privacy and juvenile laws, and how education in school can help to avoid such incidences.

Lockdown has surely boosted the popularity of social media and digital world. The digital world comprises of many content which is age inappropriate content and should not reach children. However, these adult content is made glamour and movie industry including porn industry,which influence the children adversely and create an aspirational impact on them.

To understand various perspective of students, parents, educationists and legal systems, FairGaze, an educational media, has organised an online panel discussion 'Bois Locker Room: Innocent Mistake or Crime' on upcoming Sunday, 10th May'20 at sharp 12:30 P.M.

The Fair Talks looks to discuss and understand aspects like:

Should children who get influenced by such content be treated as criminals?
What impact does it have on the accused children?
What impact does it have on the parents of the accused children?
Can a private group chat of children be made public information?
How do we avoid re-occurrence of such incidents?

FairGazebrings together professional experts as panellists and includes Dr. Bhavna Chaddha (Neuro Clinical Psychologist) and Dr.Madhumati Singh (Practicing Psychologists), Dr.Alok Mishra, Former Member (Magistrate) Juvenile Justice Board, Delhi and Ms.KavitaSoni, Principal of Venkateshwar Global School, New Delhi, who will present their thoughts from the perspective of the child, parent, legal systems and an educationist respectively.

For registering, click on the link: https://fairgaze.com/fair-talks.html

We will be also LIVEon Facebook:

https://www.facebook.com/fairgaze/

FairGaze is the largest school focused media which works with various stakeholders and policy makers, which also include organizers of premium events associated with education industry. FairGaze engages with over 350,000 students from over 13000 schools across India. FairGaze works with schools to help manage their newsletter in order to promote the sports and cultural functions of the schools and recognize the activation of the students.