FairGaze & India Is Us Conclude #OneDayForHeritage Campaign
26 Apr, 2021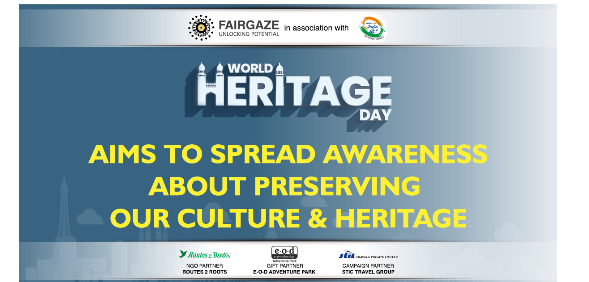 Summary: To celebrate World Heritage Day on 18th April 2021, FairGaze and India Is Us jointly organized a campaign #OneDayForHeritage, which saw active participation from thousands of students from scores of schools across India and was supported by eminent personalities to help spread awareness about Indian heritage and its preservation among the school community, non-profits, and various stakeholders.
New Delhi, 26th April 2021: India is blessed with a diversity of culture, traditions, and languages- all of which constitute our unique heritage. Add India's marvelous monuments and heritage sites to the mix, we have all the reasons to be proud of the rich legacy of our country.
FairGaze and India Is Us launched the #OneDayForHeritage campaign to spread awareness and to inspire heritage preservation among the school community in association with NGOs and other stakeholders. The campaign is aligned to the Sustainable Development Goal 11 (SDG11) established by the United Nations to ensure "Sustainable Cities & Communities".
The main objective behind the campaign is to expose students to the diversity of heritage and culture to cultivate respect for each other's culture necessary for the promotion of peaceful coexistence.
The campaign saw active participation from thousands of students from scores of schools across India, who shared videos and photographs showcasing their singing, dancing, musical talents, and their travel stories with photographs of visits to different heritage sites countrywide. Non-government organizations too joined hands to partake in this celebration of rich Indian heritage and saw a reach of over 5,00,000 with around 60,000 engagements.
The campaign culminated with a webinar on 19th April 2021, wherein speakers spoke at length about sustainable development initiatives and their passion for heritage preservation. The panel of esteemed speakers included Ambassador Deepak Vohra (former special advisor to the Prime Minister); Subhash Goyal (Chairman AITO and Stic Travel Group); Principal Vividh Gupta (BBPS school); Principal Bhawna Khanna (DPS school); Principal Anita Sharma (SDPS); Geetika Jain (EOD Adventure Park); and Alisha Vijoy (India Is Us).
The winners for the campaign were also announced LIVE during the webinar with supporting partners EOD Adventure Park and NGO partner Routes 2 Roots extended their active support to this campaign.
#OneDayForHeritage is an extension of the #OneDayForFuture campaign by India Is Us that urges individuals and organizations to donate one day's worth of their time, earnings, or skills for the betterment of society.
FairGaze and India Is Us also announced their next campaign on Menstrual Hygiene.
SDG School Program by FairGaze
FairGaze SDG School Program is an initiative to help schools actively engage students in achieving Sustainable Development Goals. India Is Us partners FairGaze mobilizing stakeholders from NGOs and corporates to make a measurable impact on creating awareness among students helping them to become responsible future citizens of the country.
FairGaze is the leading school-focused media and engagement ecosystem for the school community, which works with various stakeholders and policymakers, including organizers of premium events associated with the education industry. FairGaze engages with over 350,000 students from over 13,000 schools across India.
About India Is Us
India Is Us is a Corporate Social Responsibility (CSR) support initiative determined to help NGOs through capacity building and sustainable growth. India Is Us works with numerous NGOs across India and is focused on twelve causes, including literacy and education, health and nutrition, environmental conservation, women empowerment, poverty alleviation, care for the elderly, animal welfare, skill development, inclusivity for people with disability, child welfare, WASH and heritage.
Related Links: