FairGaze Joins Period Fest on World Menstrual Hygiene Day
29 May, 2018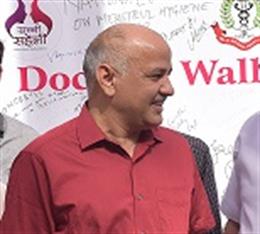 New Delhi, May 27, 2018: To bleed or not to bleed? To talk or not to talk about it? How to escape the shame of bleeding? Why out of nothing does a woman bleed? These are the few questions that are supposedly cluttered in the mind of an inquisitive girl getting her periods for the first time. One fine morning, suddenly she grows up and is expected to show her maturity by not talking/asking/questioning anything as disgraceful as periods.
FairGaze joined Period Fest on the occasion of World Menstrual Hygiene Day to break this taboo about menstruation organized by the Department of Women and Child Development (WCD), Government of NCT of Delhi in collaboration with Sachhi Saheli, organized a rally in New Delhi, wherein a large number of school kids and volunteers carrying placards and banners on social taboo about menstrual cycle participated in creating awareness and disseminate knowledge among the girls.
Chief guests of honour included Shri Manish Sisodia (Deputy Chief Minister, Delhi), Mrs. Swati Mailwal (Chairperson, DCW) who shared the stage with Dr. Surbhi Singh, the President & Founder of Sachchi Saheli, an initiative supported by Government of NCT Delhi, NDMC, AKAR Social, Asmita Theatre Group, WASH and UNICEF to bridge the gap between ignorance and knowledge on menstrual hygiene among both the rural and urban women. Speaking on the occasion, Dr. Singh said, "Our understanding of menstruation was vague prior to science clarifying it. Thus, a lot of bizarre beliefs were twisted to explain periods in primeval communities and cultures."
Speaking to FairGaze, Shri Manish Sisodia emphasized the necessity for reconditioning the hesitation of speaking among girls towards breaking the bloody taboos.
Chairperson of Delhi Commission for Women, Swati Maliwal also shared her experience with FairGaze about menstrual cycle and taboo related to it. She added, "We should have more initiatives like Sachchi Saheli as it encourages women to break their barriers. Periods are a very beautiful and a natural phenomenon and the sole reason for our existence. It should not be considered impure nor the women looked upon with a bad/evil eye."