FairGaze Media Coverage At Mind Mingle 10th Inspiration Festival!
24 Sep, 2019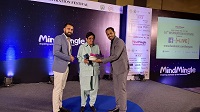 Summary: The ginormous event of '10th Inspiration Festival' by Mind Mingle was another big shot in the events list in the education sector. The event which was held on 20th and 21st September' 19 at Vivanta by Taj hotel was a platform for many known and popular eminent personalities from Dr. Kiran Bedi to Mr. Allan Kjaer Andersen who graced the event with their unique aura. Also the Co-founder and Director of Mind Mingle Mr. Naveen Sharma, along with Mr. Shakeel Ahmad another Co-founder made the event a more successful one with their hard works.

The two day event was well organized and went parallel with time limits. Every speaker added a bit to the event with some great innovative ideas. Not to forget about the special host, Jeroninio Almeida who took the event to another heights with his special insights after every session.

The motto of the event, Innovation, Inspiration and Creativity in Education sector was mostly talked about. Many speakers talked about their start-ups that encounter the monotonous ways of learning in educational institutions. New Education Policies, Innovation in Education were some of the hot topics of panel discussions. Panel discussions imparted different aspects and views of some great educationists and the moderators like Jyoti Arora, Director and Principal of Mount Abu Public School, Amol Arora, MD of Shemrock and Shemford group of schools etc. were efficient enough to extract the beneficial points discussed in the panel discussion.

Day 1 graced dignitaries like Allan Kjaer Andersen, Former Principal, Oerestad Gymnasium and Director of Chaman Bhartiya School of Leadership, Mamta Saikia, CEO of Bharti Foundation who talked about primary and higher education for underprivileged children.
There was also a book launch of 'BUD TO BLOSSOM' book written by Gopalan S. who won everyone's hearts by his words like 'It's better to light the candle than curse the darkness'. Naveen Sharma, Co-founder and CEO of Mind Mingle also contributed in this event by sharing some of his experiences. Prof. V Ram Gopal Rao, Director of IIT Delhi showed the harsh reality of our competitive exams and also told how start-ups are doing so well. The event also was privileged to hear words from Dr. Jagdish Gandhi who is founder of City Montessori Schools which is the largest school in the world.

Day 2 was full of excitement as the Chief Guest Dr. Kiran Bedi, Lieutenant Governor of Pondicherry and Anil Swarup, Former Secretary of Ministry of HRD, Government of India arrived that day and delivered their articulation regarding inspirational aspects. Dr. Kiran Bedi taught the audience the importance of right parenting. Ma'am also spoke about Women Empowerment. More guests included personalities like IAS Ira Singhal, who shared her beautiful views that educators are the one who build the country. All the panel discussions were very interesting and imparted knowledge in the sectors like new Education policies, innovation in Education, innovative learning methods and Person centred education. The amazing audience as delegates and sponsors made the event more successful. FairGaze was the online media partner there and helped it to reach wider audience.
FairGaze is the largest school focused media and an ecosystem for holistic development, which works with various stakeholders and policy makers, including organisers of premium events associated with education industry. FairGaze engages with over 350,000 students from over 13,000 schools across India. FairGaze works with schools to help manage their newsletter promote the sports and cultural functions of the schools and recognise the achievements of the students.