FAIRGAZE NOW BACK WITH INDIA AS I SEE 2019
05 Jul, 2019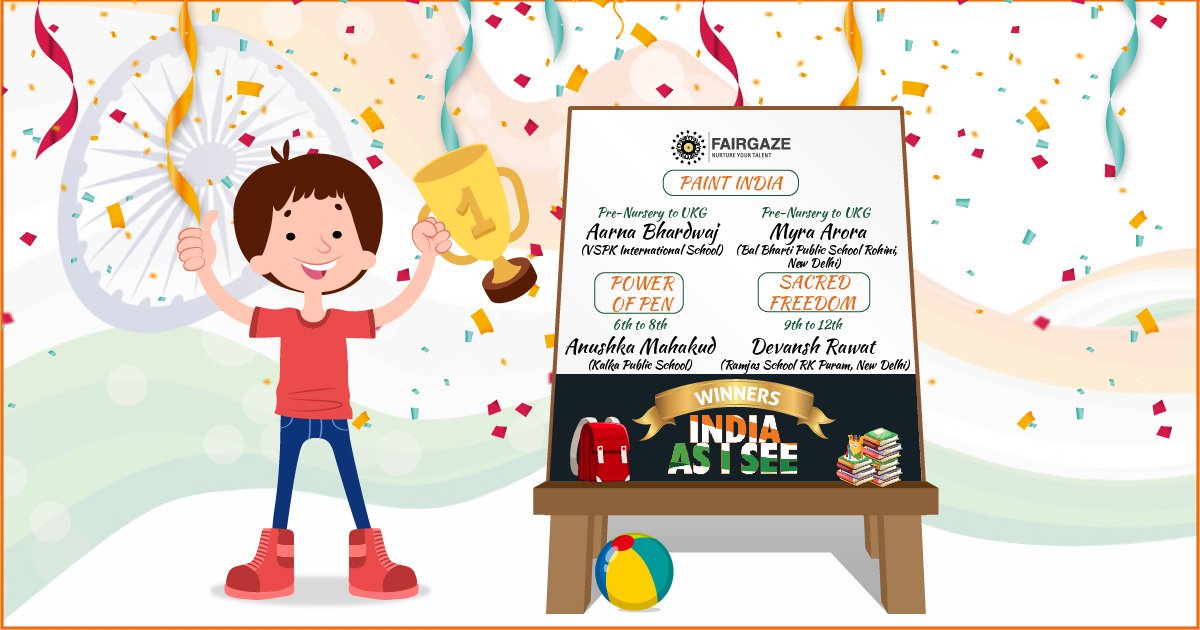 New Delhi, 3rd July, 2019: FairGaze, the largest K-12 media is once again backing with its hit pan India free online contest "India As I See 2019" that has commenced on 1st July, 2019 and will close its registration by 13th August, 2019. FairGaze has launched this contest for the occasion of 73rd Independence Day Celebrations for school students to remember the sacrifices of our freedom fighters. The contest is an online contest for school students and is divided in four groups. The first and second group aims on students of kindergarten and 1st to 5th class and is a painting competition. Other categories incorporate competitions like "Power of Pen" (Poetic words on Freedom) and "Sacred Freedom" (Show the power of words on Freedom) for students of 6th to 8th class and 9th to 12th class respectively.

India As I See 2018 graced almost 5000 registrations and more than 2 lacs people got engaged with the competition. FairGaze honoured VSPK International School, Rohini as they were one of the winners of the contest "India As I See" and student Arna was the Winner in the Category of Paint India, Anika was the 1st Runner Up, Gritha was the First Runner and Navya was the 2nd Runner-up in the Category of Paint India. Prizes included Trophies, Certificates and an amazing cash prize of total worth Rs. 14000 was given.

All the runner ups Chinmay (Paint India, Primary), Manpreet (Paint India, Primary) and Areen (Power of Pen, 6th to 8th) received appreciation certificates. This year's winners Participation Activity will be published on FG Network and Top 10 Schools with highest no. of winners will be awarded by a trophy and will receive a 3 months free subscription of FairGaze Newsletter service with Students Journalism Training.

FairGaze is the largest school focused media and an ecosystem for holistic development, which works with various stakeholders and policy makers, including organisers of premium events associated with education industry. FairGaze engages with over 350,000 students from over 13, 000 schools across India. FairGaze works with schools to help manage their newsletter promote the sports and cultural functions of the schools and recognise the achievements of the students.