Major General Jacob Tharakan Chacko Joins FairGaze, Leading School Media, as Advisory Board Member
12 Jan, 2021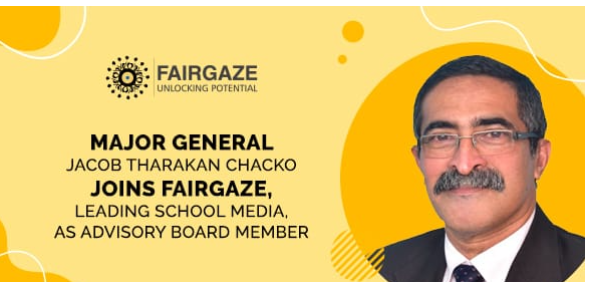 Summary: Major General Jacob Tharakan Chacko joins the Advisory Board of FairGaze, the leading school media, to lead engagement among school students focused on building future responsible citizens and contribute in nation building.
New Delhi, 23 December 2020: FairGaze is pleased to announce that Major General Jacob Tharakan Chacko has joined as Member of the FairGaze Advisory Board to lead the nation-building engagement models focused on social and emotional learning among the school students. Major General Jacob Tharakan Chacko brings unique experience in the field of education with his rich experience as a decorated soldier, leader, trainer, motivator and mentor.
Major General Chacko said, "Nation building doesn't reside in few random words and infrequent actions. It's an idea and an ideology that shapes an individual's character and a Nation state's destiny. It's about duties and obligations that override expectations. It's not about an extra ordinary act by one person, it's about ordinary citizens with extraordinary commitments. It's about each individual embodying values that make our Nation great."
Welcoming Major General to FairGaze ecosystem, the Chief Relationship Officer Mr. Ranju R Pillai said, "FairGaze is honoured to welcome Major General Chacko to the Advisory Board, which will make significant positive impact in the school student community with his immense knowledge and experience."
FairGaze is the leading school focused media and an ecosystem for holistic development, and works with various stakeholders and policy makers. FairGaze engages with over 3,50,000 students from over 13,000 schools across India. FairGaze also works with schools to help manage their newsletter, promote sports and cultural functions of the schools and recognise achievements of the students.