Panel Says Schools Ready to Open, Contrary to 66 Percent Who Disagreed
11 Aug, 2020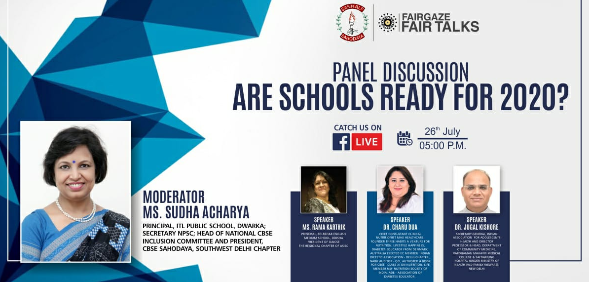 Summary: The Panel on Fair Talks analysed the effect of pandemic on school community and opined that the schools can open with simple precautions put in place, going against the recent survey results which indicated that 66% disagreed that the schools were ready and a further 77% considered it unsafe.

New Delhi, 11 August 2020: The authoritative panel on recent episode of Fair Talks consisting of educators, doctor, nutritionist and parents held the view that the schools can open with just simple precautions in place. Their view was contrary to the survey result that they analysed, which indicated that 62% disagreed that the schools were ready and 77% considered it not safe to go school with 74% agreeing to the impossibility of enforcing social distancing among students.

Sudha Acharya, Principal, ITL Public School, who moderated the panel said that the main challenge is to address the learning gap which the students are facing due to lockdown. She added that many parents of children would like children to resume school especially those in essential services profession like doctors, medical staff or the economically weaker sections like daily wagers, etc. She also expressed concern at the need to engage children to ensure mental, social and emotional well-being as the students are missing their space and social bonding with peers.

Dr Jugal Kishore, Secretary General, Indian Association for Adolescents Health and Director Professor & Head, Department of Community Medicine, Vardhman Mahavir Medical College & Safdarjung Hospital (Under Ministry of Health and Family Welfare), expressed his concern on the 'infodemic' leading to a lot of misinformation and panic in the society. He added that global statistics prove the low risk and the mild nature of infection among the students. He added that at risk category would be those children who suffer from immunological, genetic or metabolic disorders. He highlighted that children are at much greater risk and susceptible to mental disorders, sexual abuse, child labor and domestic violence.

Dr Kishore also suggested four principles to ensure school safety. The first is preventive behaviour of social distancing and using barriers to the spread of infection to be practiced by every one in school community. Ensuring clean sanitised and ventilated environment as the second principle. The third principle is that the operation of the school should be focused on reducing the crowd using staggered classes. The fourth principle is to ensure preparedness to deal with incidence of infection by allowing for quarantine for students and staff. He added that the most important aspect is aiding the mental strength of the parents who need to be informed of the low rate of infection and fatalities.

Rama Kartik, Principal, Belpahar English Medium School, and President of OAICSE the regional chapter of the ASISC, acknowledged the role of teachers who rose to the challenge and quickly adapted to meaningfully engaging with students and online teaching. She highlighted the positive trend that, as the children study from home, the classroom are now accessible to parents, resulting in increased supervision and increased parental responsibility. She added that this will lead to active involvement of parents in the teaching-learning process and also noted the increasing trend of self-reliance and self-study among students.

Dr Charu Dua, Head Of Nutrition and Dietetics At Max Health Care, highlighted the need to instil a regular routine and regime along with right diet to align with the natural circadian clock and healthy lifestyle. She said that the parents should be attentive to food safety norms, nutritional immunity, portion size and conscious choice of food. She advocated creating awareness among children to read the nutrition label and serving size and suggested innovative use of ingredients in food preparation and spreading diverse food groups in the diet.

Sudha Acharya, who is also Secretary, NPSC; Head of National CBSE Inclusion Committee and President, CBSE Sahodaya, highlighted the digital divide and need to enable access to online learning to the marginalised students and suggested empathy-based solution of sharing old or unused laptop or smartphone among peer group.

The panel also discussed steps like starting the school in shifts to enable students to spread across larger number of classrooms, creating awareness among children to wear masks and avoid tiffin-sharing, broadcasting of assembly functions through digital boards or public address systems, using multiple-choice-questions or activity based assessment models.

Fair Talks is organised by FairGaze, the largest school media and an engagement ecosystem for holistic development, which works with various stakeholders and policy makers, including organisers of premium events associated with education industry. FairGaze engages with over 350,000 students from over 13,000 schools across India. FairGaze works with schools to help manage their newsletter, conduct holistic development programs, promote the sports and cultural functions of the schools and recognise the achievements of the students.


Please find the link to FairGaze's Survey on the topic:
https://www.slideshare.net/fairgaze/is-school-ready-for-2020
https://textilevaluechain.in/2020/08/21/panel-says-schools-ready-to-open-contrary-to-66-percent-who-disagreed/
https://brainfeedmagazine.com/panel-on-fair-talks-says-schools-ready-to-open/
CONTACT INFORMATION
Contact PersonMr. Piyush Nayak
OrganizationFairGaze Skills Pvt. Ltd.
Phone+91 9717023501
Emailpiyush@fairgaze.com