Role of Parents Increased in Online Schooling, Panel Backs Survey Results
11 Sep, 2020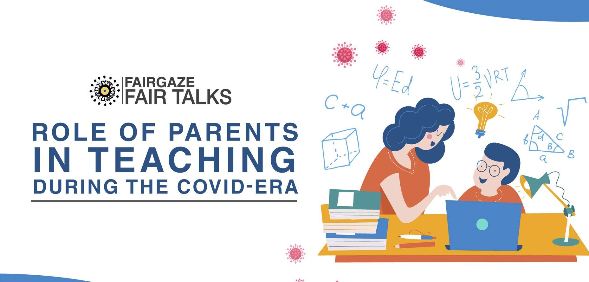 Summary: Fair Talks, an expert panel discussion on school community issues organised by FairGaze, opined that the role of parent has significantly increased in the ongoing online schooling, similar to home-schooling concur 61% respondents in survey.
New Delhi, 11 September 2020: In the recent episode of Fair Talks, an expert panel discussion on school community issues organised by FairGaze, agreed with the survey findings in which 91% polled that the role of parent has significantly increased in the ongoing online schooling. Interestingly, 61% of respondents agreed that online learning is similar to home-schooling by parents with school's assistance.
The recent study conducted by FairGaze on the role of parents in teaching during the pandemic indicates that an overwhelming 97% agreed that educating children is a shared responsibility of both parents and teachers and over 68% said that online teaching is bringing teachers and parents closer. More than 86% are opined that the mental wellbeing is a key responsibility of parents in the absence of social interactions with school friends.
The panellists included Jyoti Arora, Principal of Delhi World Public School, Sapna Sukool, Trainer and Founder of Edustart Solutions, Ayesha Khan, School Safety & Quality Management Specialist and Lead School Safety at FairGaze, Ashish Mehrotra, Assistant Vice President ACL Mobile Ltd and Dr. Madhumati Singh, Practicing Psychologist and Director at FairGaze, who moderated the panel discussion.
Answering to the question on how parents and teachers can work together to handhold the student's during these difficulties times, Jyoti Arora said that teachers and parents are wearing multiple hats and the defining lines of roles have merged. She added that the teaching and learning has to be imbued on compassion focused on empathy with parents and students by establishing a strong relationship between them and emphasised on parents becoming a role model for their children.
Sapna Sukool shared that students were able to adopt online systems easily but the teachers had to burn the midnight oil to learn and deliver effective classroom. She added that even the parents were playing active role in the online teaching with parents acknowledging the contribution of the teachers and their role as a frontline warrior in the Corona pandemic.
Speaking on the safety aspect in the online learning, Ayesha Khan said that the parents need to handhold the children just like teaching them how to cross the road. She suggested that the parents need to teach children the etiquette of online world, inculcating the practice of seeking permission to access internet or download any app or games, and encourage children to have open conversation without any fear of being reprimanded. She added that risks are part of life, but accidents need not be and that we should all be grateful of being safe and healthy.
Speaking from his experience as a working professional and a parent, Ashish Mehrotra highlighted the need to inculcate a routine, sensitising the children to the new normal and set an example for your children.
Concluding the discussion Dr Madhumati Singh emphasised that parents need to maintain a calm composure and involve children in the household chores and activities. She concurred with suggestion by Ayesha Khan that the idea of beauty at any age is fitness and also that being grateful and compassionate are important learnings during the Covid times.
FairGaze is the largest school media and an engagement ecosystem for holistic development, which works with various stakeholders and policy makers, including organisers of premium events associated with education industry. FairGaze engages with over 350,000 students from over 13,000 schools across India. FairGaze works with schools to help manage their newsletter, conduct holistic development programs, promote the sports and cultural functions of the schools and recognise the achievements of the students.
Check out the survey results on https://www.slideshare.net/fairgaze/role-of-parents-in-teaching-during-the-covid-era