The Comeback of the 3rd Edition of Teachers Cricket Championship
10 Feb, 2020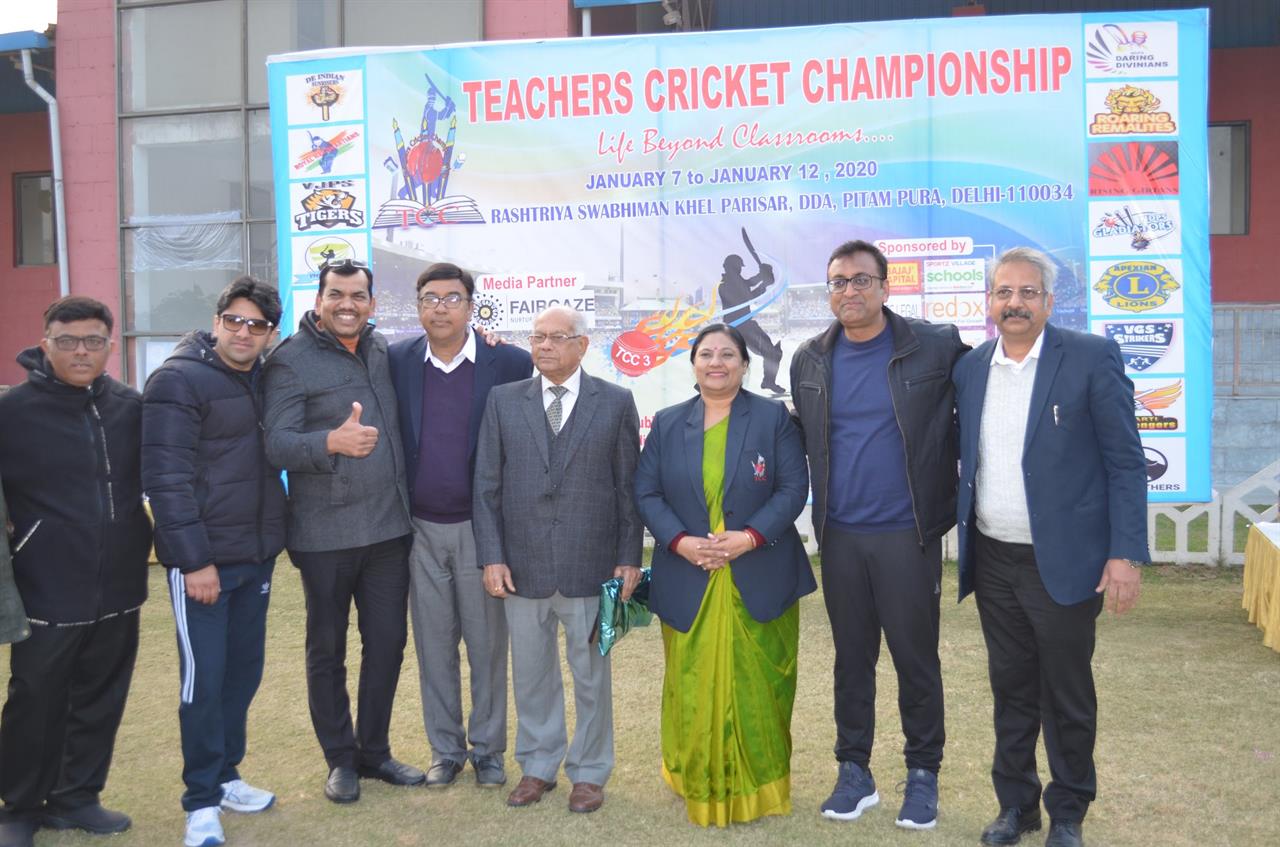 The humongous event of Teacher's Cricket Championship was conducted from 7th January, 2020 to 14th January, 2020. The event was held at Rashtriya Khel Parishad, New Delhi. It was a grand event where sixteen teams participated. Each team consisted of six male and five female members. The event incorporated in a unique concept for boosting the energies of female teachers where they along with other teachers, owners of the school played and dwelled themselves into the playing environment.

The event was headed by Mr. Sanjeev Gupta who is MD of De Indian Public School and President of TCC. Along with him there were 7 other founder members of TCC who were responsible for increasing the grandeur of the event.
The whole concept of the event was unique and catchy as the event was mainly conducted to inspire the women to play sports. The whole concept was to motivate female teachers to play and come forward to be the part of the huge success of the event.

The seven-day event was a huge success and was quietly well organized. 5th January, 2020 was the day of Trophy launch ceremony of the Championship. First day of the event ended with 4 matches that were played well by all the teams. All the teams performed well and started the tournament with a blast. The second day continued with the start of 8 teams playing against each other for the quarter final. They graced the event by playing with full enthusiasm and fun. The third day of the event saw both semi-final and finals. The semi-final was between 4 teams and the final was conducted between 2 teams. There was a great enthusiasm from the audience as they kept motivating the teams. The enthusiasm from the audience helped the event in being a huge success. The final day was pleased to have many dignitaries like Mr. S.K. Bhattacharya who is the President of Action Committee of Private Unaided Schools who graced the event and felicitated the winning team, St. Giri Public School (Rising Girians) and the first runner up, Vidya Jain Public School (VJPS Tigers). There were various other awards like Female of the match, Female of the tournament, Man of the tournament and many others. The teams won an array of exciting prizes including Juicer mixers and LEDs.

FairGaze is the largest school focused media which works with various stakeholders and policy makers, which also include organizers of premium events associated with education industry. FairGaze engages with over 350,000 students from over 13000 schools across India. FairGaze works with schools to help manage their newsletter in order to promote the sports and cultural functions of the schools and recognize the activation of the students.