Vivek Atray, Motivational Speaker, Author, Mentor, Advisor, Columnist Joins Advisory Board of FairGaze, Leading School Media
20 Jan, 2021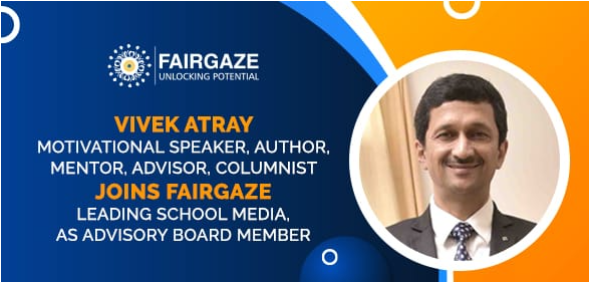 Summary: Vivek Atray, ex-IAS, a Motivational Speaker, Author, Mentor, Advisor, Columnist, and Visiting Professor joins the Advisory Board of FairGaze. Mr. Atray joins the Advisory Board of FairGaze, the leading school media to contribute to enhancing the emotional intelligence and well-being of students for their holistic development.
New Delhi, 20 January 2020: FairGaze is immensely pleased to announce that Mr. Vivek Atray has joined the FairGaze Advisory Board to lead the engagement models aimed at promoting emotional and social well-being focusing on the students' emotional intelligence. Mr. Atray brings to the table an experience of an acclaimed orator, motivational speaker, author, mentor, advisor, columnist, and an educator. He is India's leading motivational speaker. He was DC Panchkula and Director Industries before taking voluntary retirement from the IAS.
The author of four books, Mr. Atray has strong conviction that that children should be guided and directed to a brighter side of life. A TedX speaker, he inspires thousands of youngsters to adopt a cheerful, positive, and multi-dimensional approach to their lives.
Welcoming Mr. Atray's joining the FairGaze ecosystem, the Chief Relationship Officer Mr. Ranju R Pillai said, "FairGaze has been spearheading the awareness on holistic development of children as the academics have always been the focal point of the schools, and Mr. Atray's joining will be a boon to students as he will grace and enrich our students' community with his rich knowledge and people-skills."
FairGaze is the leading school focused media and an ecosystem for holistic development and works with various stakeholders and policymakers. FairGaze engages with over 3,50,000 students from over 13,000 schools across India. FairGaze also works with schools to help manage their newsletter, promote sports and cultural functions of the schools, and recognize the achievements of the students.