World Environment Day by FairGaze, I2U Engaged 24K+ Students
12 Jul, 2021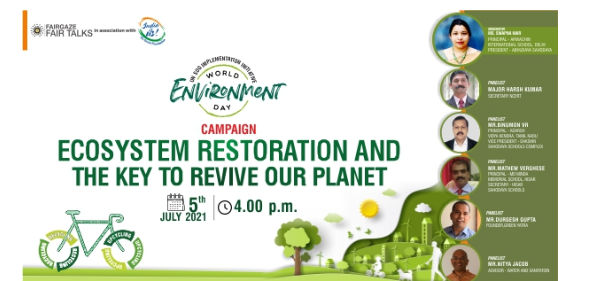 Summary: FairGaze, an ecosystem for holistic development of school students along with India Is Us (an NGO support initiative working with over 80 NGOs), #OneDayForEnvironment campaign coinciding with the World Environment Day engaged with over 24,000 students across India and concluded with prominent educationists and environmental experts sharing their experiences live while interacting with students.
New Delhi, 12 July 2021: Celebrating the World Environment Day, the #OneDayForEnvironment campaign engaged with over 24,000 school students across India. Launched on 5th June by FairGaze (leading school media and ecosystem for holistic development of school students), along with India Is Us (an NGO support initiative) the campaign concluded with a live webinar featuring prominent educationists and luminaries on environmental matters interacting with students and sharing their experiences.
The #OneDayForEnvironment campaign engaged the school and non-profit community to implement UN-led Sustainable Development Goals SDG-15, encouraged students to plant trees, upcycle and recycle waste products, spread awareness about environment conservation, and help develop an eco-friendly attitude. As part of the campaign, #GoGreen, #ReUpCycle were promoted in continuation of the existing hashtag chain #OneDayForFuture.
The month-long #OneDayForEnvironment campaign concluded on 4 July 2021 with a closing webinar and winner announcement ceremony that sent out a message on the way we consume and for educators to inspire students to take actions to build a greener future.
The esteemed panelists and dignitaries included Major Harsh Kumar, Secretary NCERT, Durgesh Gupta, Founder of Green Yatra and Nitya Jacob, Advisor on Matters of Water and Sanitation was joined by eminent educationists Binumon VR, Principal of Adarsh Vidya Kendra, Mathew Verghese, Principal of MD Minda Memorial School and Swapna Nair, Principal of Arwachin International School who was also the moderator of the session.
The campaign was supported by AIESEC, Dakshi Sahodaya Schools Complex, SPAA India, The SportsGrail along with NGO Partners Tree Craze, World Parliament and Green Heart Dignity.
About FairGaze and SDG School Program
FairGaze is the leading school-focused media and engagement ecosystem for the school community, which works with various stakeholders and policymakers, for the holistic development of students. FairGaze engages with over 350,000 students from over 13,000 schools across India monthly. FairGaze works with schools to conduct holistic development programs, promote the sports and cultural functions of the schools and recognise the achievements of the students.
FairGaze SDG School Program is an initiative to help schools actively engage students in achieving UN-led Sustainable Development Goals. India Is Us extends support to FairGaze in engaging stakeholders from NGOs and corporates to make a measurable impact on creating awareness among students to help them to become responsible future citizens.
About India Is Us (i2u Social Foundation)
India Is Us (i2u Social Foundation) is a Corporate Social Responsibility (CSR) support initiative that perseveres to help NGOs through capacity building and sustainable growth. i2u works with numerous NGOs across India and is focused on twelve causes, including literacy and education, health and nutrition, environmental conservation, women empowerment, poverty alleviation, care for the elderly, animal welfare, skill development, inclusivity for people with disabilities, child welfare, WASH and heritage.