FairGaze & India Is Us Conduct #OneDayForWater Campaign
30 Mar, 2021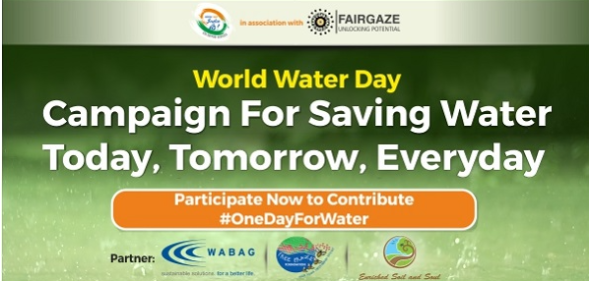 Summary: To celebrate World Water Day on 22nd March 2021, FairGaze and India Is Us together conducted one-of-its kind campaign to facilitate conversation among the school community of students, parents and teachers on judicious water usage and help the future citizens become #WaterSmart.
New Delhi, 25th March 2021: Water seems infinite but potable water isn't. Shortage of clean drinking water already affects 2.8 billion people around the world at least once a month. 30 Indian cities have been declared at a high risk of severe water scarcity by 2050 and globally, 51% of the world population would be at high water-risk.
With an urgent need to spread awareness about water conservation, FairGaze and India Is Us together conducted a #OneDayForWater campaign to appeal communities to adapt to a more water-conscious lifestyle- an objective the two organizations have termed as being #WaterSmart. The campaign is in tandem with the Sustainable Development Goal 6 (SDG6) established by the United Nations to ensure "clean water and sanitation for all".
The campaign successfully concluded with a webinar on developing water-wise attitude. The list of eminent speakers at the #OneDayForWater webinar included ex ISRO scientist Ms. Poornima Savargaonkar and Major General Jacob Tharakan Chacko. Ms. Savargaonkar stressed on the need to be water wise by recognizing multitudes of ways we waste water in daily life. Major General Chacko talked about sustainable development initiatives and their significance with specific relevance to water management and conservation.
NGO partner, TREE Craze registered its presence through a special message from their Director (Program) Pallavi Jain, who also announced the upcoming Ganga Quest- a quiz competition open for everyone above the age of ten years. India Is Us head, Alisha Vijoy, thanked everyone for their active participation and enthusiasm. She stressed on the need to foster a chain of change makers in order to bring about real tangible results.
The Campaign partner WABAG, pioneers in sustainable water solutions, appreciated the participants and congratulated the winners for the #WaterSmart campaign announced during the webinar.
The campaign involved school communities and non-government organizations joining hands to spread awareness around judicious use of water through competitions, poster making, awareness drives, and webinars with a reach of over 4,73,983 and participants from across India. Over 624 students across ten states of India participated in the #WaterSmart competition.
#OneDayForWater is an extension of the #OneDayForFuture drive by India Is Us- a campaign series that motivates individuals and organizations to donate one day's worth of their time, earnings, or skills for the betterment of the society.
SDG School Program by FairGaze
FairGaze SDG School Program is an initiative to help schools actively engage students in achieving Sustainable Development Goals. India Is Us extends support to FairGaze in gathering the support of stakeholders from NGOs and corporates to make a measurable impact on creating awareness among students, helping them to become responsible future citizens of the country.
FairGaze is the leading school-focused media and engagement ecosystem for the school community, which works with various stakeholders and policymakers, including organizers of premium events associated with the education industry. FairGaze engages with over 350,000 students from over 13,000 schools across India.
About India Is Us
India Is Us is a Corporate Social Responsibility (CSR) support initiative determined to help NGOs perform better through capacity building and sustainable growth. India Is Us works with numerous NGOs across India and is focused on twelve causes, including literacy and education, health and nutrition, environmental conservation, women empowerment, poverty alleviation, care for the elderly, animal welfare, skill development, inclusivity for people with disability, child welfare, WASH and heritage.
For more information on the initiative and other general inquiries, please contact
Contact Person: Mr. Piyush Nayak
Organization: FairGaze Skills Pvt. Ltd.
Phone: +91 9717023501
Email: piyush@fairgaze.com
Related Links: