Student Article
/ Comerce
Top 10 MBA Exams in India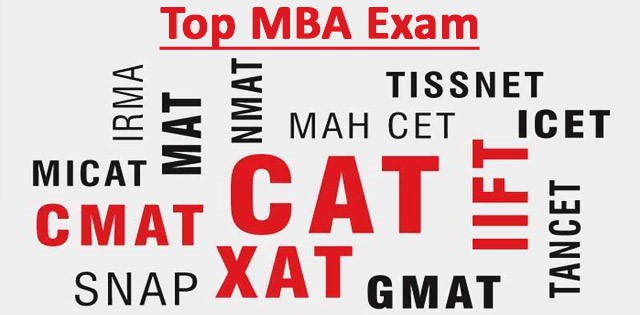 Assistant Editor
01 Feb, 2019
For those who are MBA aspirant or who are planning for admission in a B-school, knowledge about the Top MBA entrance exams is very crucial and important. After knowing all about these exams like the eligibility, exam pattern, selection procedure, exam related dates, etc., you can start your preparation accordingly. In this article, interested candidates will get all the information about top MBA entrance exams in India. Take a look at the exams and the dates related to them first.
CAT
CAT is an abbreviation for Common Admission Test (CAT). It is the most sought after MBA entrance test and is held annually for giving admission to postgraduate management courses in 20 Indian Institute of Management (IIMs) and over 100 B-schools in India. After the beginning of six new IIMs in Nagpur, Visakhapatnam, Amritsar, Sirmaur, Sambalpur, and Bodh Gaya, the total number of seats have increased to approximately 4000, with average intake being 80. Around 2 lakh MBA aspirants every year appear for CAT examination. The fee of application form is Rs. 1800 for General category candidates and Rs. 900 for reserved category candidates. This examination underwent massive changes in 2015 in terms of pattern, schedule and test window. CAT will have three sections and candidates. This will not be allowed to switch from one section to another. As a part of major changes, candidates will be allowed to utilize a basic on-screen calculator for calculation. The pattern of the exam has remained the same for the next years. Candidates who are eligible for CAT require minimum 50 percent aggregate marks in graduation in any discipline from a recognized institute or university. The candidates from SC, OBC, ST, and DA categories need an aggregate of 45 percent marks. Final year graduation students can too apply but there is a condition in which they need to provide the graduation final marks to the institutes within the requisite schedule.
XAT (Xavier Aptitude Test)
XLRI Jamshedpur for more than 60 years has been conducting admission test on all India level for selecting the most suitable students for the education of management. There are more than 140 Management Institutes which use the scores of XAT for the selection of students. Around 90,000 candidates appear for the test each year. The information bulletin and application form is available for Rs. 1600. In the eligibility criteria of XAT, candidates should have a Bachelor's Degree (10+2+3) in any discipline from a renowned University or Institute. Final year candidates may also apply.
IIFT (INDIAN INSTITUTE OF FOREIGN TRADE)
In 1963, the Indian Institute of Foreign Trade (IIFT) was set up by the Government of India as an autonomous organization for helping professionalize the country's foreign trade management. Today it is one of India's most prestigious and renowned business schools. Each year approximately 50,000 candidates apply for around 400 seats in three campuses which are located in New Delhi, Kolkata, and Kakinada. In IIFT eligibility criteria, you need to have a recognized bachelor's degree of minimum three years duration in any discipline. According to IIFT exam pattern, the entrance examination is of two hours having objective questions from the following sections:
1. English Comprehension
2. Logical Reasoning
3. Quantitative Analysis
4. General Knowledge & Awareness.
The number of questions can vary from 100-140. There is differential marking scheme in each section. The eligible candidates will be shortlisted on the basis of their scores in the entrance examinations.
SNAP (SYMBIOSIS NATIONAL APTITUDE TEST)
Symbiosis National Aptitude (SNAP) Test is a very common written test which is for the admission to all the Post-Graduate Institutes of Symbiosis International University. This examination is a National level postgraduate entrance examination which is conducted by the Symbiosis International University (SIU) for admissions into the MBA programme of institutes under this university. If you want to apply for SNAP, a candidate should be a graduate with at least 50 % marks in graduation. Final year graduation candidates can also apply but they need to complete their programme and fulfill the eligibility criteria by the time of admission at Symbiosis International University. In SNAP selection procedure, the candidates are shortlisted depending on their performance in SNAP by the participation of institutes on the basis of their cutoffs. Candidates who are shortlisted will have to appear for group exercise, writing ability test and personal interview rounds. Final merit list will be prepared by Symbiosis International University on the basis of performance in SNAP, WAT, GE, and PI rounds.
NMAT By GMAC
NMAT By GMAC is an MBA entrance exam which is conducted by the Graduate Management Admission Council (GMAC). In this exam, candidates are selected for admission to NMIMS University and 23 other B-schools across India. In 2015, GMAC has acquired the NMAT exam in India from the Narsee Monjee Institute of Management Studies (NMIMS). GMAC has renamed it 'NMAT by GMAC' assuming the ownership of the exam. In NMAT by GMAC eligibility criteria, Bachelor's Degree (10+2+3) in any discipline from a recognized university with a minimum 50% marks. According to NMAT by GMAC exam pattern, the NMAT By GMAC is a computer-based test of two hours duration which comprises multiple-choice questions where the candidates need to choose one of the correct answers. The sections in the tests are Language Skills, Quantitative Skills, Logical Reasoning, and Data Interpretation & Data Sufficiency. Each question will carry one mark and there will be no negative marking for any wrong attempt.
CMAT (Common Management Admission Test)
AICTE or All India Council for Technical Education conducts the entrance exam of CMAT for admission to MBA/PGDM programmes at over 1000 B-schools which are approved by AICTE. The application process likely commences in October. This computer-based test is conducted in a single day window in three hours. Applicants of this test must hold a graduate degree from a recognized Institute or university with minimum 50 % marks in aggregate for General category candidates and 45 % for reserved category candidates. Final year Bachelor's Degree students may also apply for this provided they complete graduation by the requisite schedule.
IBSAT (IBS APTITUDE TEST)
IBSAT is an aptitude test which is conducted by the ICFAI Business School Hyderabad, for MBA aspirants who are seeking admission into the management programme of ICFAI. The application form is available for Rs. 1800 and this test is held across India in all the cities. Graduates (any discipline) can apply for this exam who are from English medium with 50 % and above aggregate marks. According to its exam pattern, this test is for two hours duration and is aimed to test the ability of the applicants Quantitative Techniques, Data Adequacy, Data Interpretation, Vocabulary, Reading Comprehension, and Analytical Reasoning. The test is computer-based with multiple type questions (MCQ's) which need to be answered in the total duration of 2 hours. The details of the score achieved in the test are intimated to all the applicants. Candidates giving this test will be shortlisted on the basis of IBSAT scores. Shortlisted candidates will have to appear for the rounds of Group Discussion and Personal Interview. Final selection will be on the basis of the performance in IBSAT and GD-PI and past academic records.
IRMA Issues of Social Concern
The entrance exam of IRMA Issues of Social Concern is conducted by Institute of Rural Management Anand for admission to its flagship Post Graduate Programme in Rural Management (PGPRM). It is a computer-based test which is held in the month of February.
MAH
This entraince test is conducted by DTE, Maharashtra for admission to post graduation management degree MBA/MMS and PGDBM/PGDM courses in Government, University Managed and Unaided institutes of Maharashtra. For general category candidates, the application form is around Rs.1000 and for reserved category candidates, it is Rs. 800.
By: Preeti Narula