The Top 10 Law Exams in India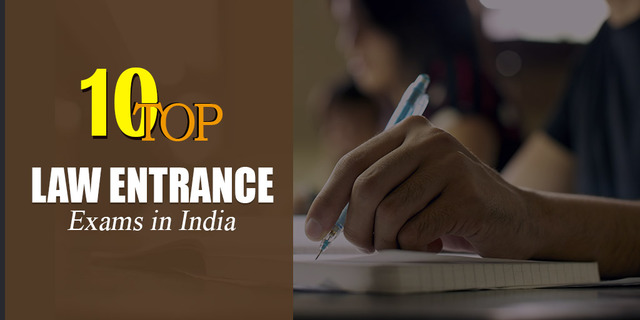 Assistant Editor
13 Feb, 2019
If you are seeking a career in law then you must check out the overview of top law entrance exams in India. Listed below are the top entrance exams for Law Admissions (LLB, LLM, Integrated Law Courses) for admission in Best Law Colleges. Get a kick start to the career of your dreams by getting admission into the top law colleges. Some of the below-listed Law entrance exams are to be taken after class XIIth and some after graduation. The list given here includes law entrance tests at All India level (National Level) while others at State Level or colleges have their own entrance exams.
CLAT: CLAT stands for Common Law Admission Test. This exam is a non-statutory body which is created under a Memorandum of Understanding (MoU) for the convenience of the interested students who are seeking admission to various National Law Universities in India. An entrance test is conducted to offer a list of candidates based on 'merit-cum-preference' to each University for admission to their UG/PG programs, as per the eligibility, reservation and other criteria which are laid down under the respective statutes of the participating Universities. This examination is an all India entrance examination which is conducted on rotation by 18 National Law Universities (NLUs) for admissions to their Under-Graduate and Post-Graduate degree programs.

AILET: AILET stands for All India Law Entrance Test. It is conducted by National Law University Delhi (NLU-D) for admissions to five-year integrated undergraduate and two-year postgraduate law programmes. This examination is held online in various examination centers which are spread across 20 cities in India. It is one of the most popular and known law entrance examinations which is held annually for admissions to 83 BA LLB and 20 LLM programmes. The NLU Delhi administered law entrance exam will be conducted offline. For this, law aspirants seeking admissions in the NLU will have to apply for the law exam.
IP University Delhi: Guru Gobind Singh Indraprastha University (GGSIPU) conducts the IPU CET law 2018 for taking admissions to its law programmes each year. The common entrance test for LLB is conducted in offline mode. The university provides admissions to five-year integrated law programmes including BA LLB and BBA LLB. The UG law programmes are offered in as many as eight colleges which are affiliated to GGSIPU. Aspirants who are interested in pursuing the five-year law programmes from the university apply in February for IPU CET Law. Once the candidates have appeared for the GGSIPU administered law entrance examination, a merit list will be published after the results which have been announced for IPU CET Law 2018 admissions.
SET: SET stands for Symbiosis Entrance Test. This examination is a preferred destination for those students who simply desire to excel. One of the primary reasons for its excellence is the quality of students which are admitted to its institutes every year by means of its common entrance assessment. This page is dedicated to offering you all the information you may need about Symbiosis SET 2018
HP NLU: HP NLU stands for Himachal Pradesh National Law University, Shimla. This exam is conducted in order to shortlist students for admission in programmes such as – BA/BBA LLB (Hons), LLM and Ph.D. in law. This examination is also known as Himachal Pradesh National Law University Entrance Test (HP-NET). In this law entrance exam, students are evaluated out of 150 marks. Aspirants attempt all the questions which are asked in HPNET in two hours duration.
LSAT: LSAT stands for Law School Admission Test. The purpose of this examination is to aid in predicting student success in law school. Researchers Balin, Fine, and Guinier performed research on the ability of this exam for predicting law school grades at the University of Pennsylvania. They found that the LSAT could explain about 14% of the variance in the first year grades and about 15% of the variance in the second year grades.
MH CET: This exam is conducted by Directorate of Higher Education, Maharashtra for admissions to undergraduate law programmes on offer across the law colleges of the state. The common law entrance test is held each year in April for admissions to five-year integrated law programmes and for the three-year LLB programmes. Aspirants who are applying for three-year LLB programmes through MH CET Law 2018 get the opportunity of securing a seat from a total of 15040 seats across 218 colleges which are affiliated to 11 state universities.
Christ University Bangalore: CULEE is conducted by Christ University for admissions to five-year integrated law programmes. Candidates who wish to seek admissions to undergraduate law programmes including BA LLB and BBA LLB offered at School of Law, Christ University can apply for CULEE. CULEE's application form is available in online mode and candidates can check here all about CULEE including application procedure, eligibility criteria, exam pattern as well as result and counseling schedule.
Banaras Hindu University: BHU LLP entrance exam is conducted by Banaras Hindu University each year for the admissions to three-year law programmes. Aspirants who are interested in pursuing the 3-year LLB programme from Banaras Hindu University need to apply for this entrance exam. The candidates who are seeking admissions to undergraduate law programme of BHU can check all about this exam including important dates, eligibility criteria, application process, answer key, exam pattern, results, and counseling schedule. This examination will also be conducted in an offline mode.
UPES: UPES Law Studies Aptitude Test (ULSAT) is a university-level law entrance exam which is organized by University of Petroleum and Energy Studies (UPES) Dehradun. This exam is held in a seven-day window between and will be conducted for offering admissions into five-year integrated law programmes including BA LLB, BBA LLB, and B.Com LLB. Aspirants may note that the undergraduate law admissions in UPES could also be done without appearing for ULSAT, either through Class 12 Board Merit, CLAT Merit or L-SAT India Merit scores if found eligible by the University.
Punjab University Chandigarh: PU LLB entrance exam is conducted by Panjab University, Chandigarh to shortlist aspirants for admission in three year LLB programme offered by it. The candidates get admission on the basis of their performance in PU LLB entrance exam.
By: Preeti Narula