Increasing Number of Student Suicides in India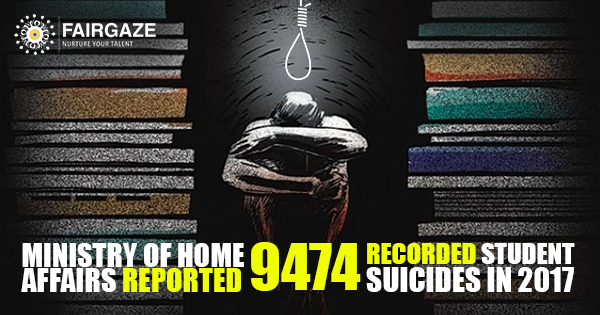 Assistant Editor
29 Nov, 2018
Every year, around 800,000 people suicide worldwide. 17% of them are Indians. In India, suicide rates are increasing and getting worse day by day. Students hold a maximum percentage in this suicide data. Since 2014, around 26,000 students killed themselves in India. This data and report were sent to the Ministry of Home Affairs by all Indian states and union territories. In 2016, around 9,474 students opt to give up their life which comes down to one suicide every 55 minutes. The major reason for these suicides is a failure in academics. Maharashtra logged the highest number of students' suicides with 1,350 accounting for 14% of the total. After Maharashtra, West Bengal and Tamil Nadu logged with 1,147 and 981 student suicides.
Failure in exams is not the only reason behind these suicides. The other reasons which contributed to these incidents are fear of failure, forced career choices, and the general stigma attached to mental stress. Poor performance in examinations and caste discrimination in the workplace are also among the reasons for suicides. The month of May in 2017 faced 12 students suicide including 6 girls in Madhya Pradesh. They were depressed because of their results in class Xth and XIIth exams which are conducted by the state board.
Psychiatrists play a very significant and important role in the treatment of such students. There are fewer than 5000 psychiatrists currently and clinical psychologists are only 2000. So, in a country of 1.3 million where one suicide is taking place every 55 minutes, only this much number of psychiatrists won't make much of a difference. Therefore, there is a dire need of more and more resources in India to help the student population. In some of the districts, the central government has approved the implementation of the District Mental Health Programme. This programme also has some additional components of suicide prevention services, workplace stress management, life skills training, and counseling in schools and colleges. Numerous colleges have also come forward to contribute in Pune by opening wellness centers for stressed students. One unusual step taken by the Indian Institute of Technology - Kharagpur is deliberately switching off power for an hour a day for encouraging students to unplug from their smart devices and interact with each other.
Another state which has offered a future warning to India with its highest suicide rate is Sikkim. It is India's third richest state after Delhi and Chandigarh with seventh highest literacy rate. But, when it comes to unemployment, it holds the second-highest position. Most of the suicides were between 21 and 30 years of age and the major reason was unemployment. Young people opt for having a conversation with the counsellers which reveal that it is very difficult for them to tackle the pressures and failures of examinations and careers. They didn't get adequate and understanding support from their families and social institutions. Because of India enduring an 87% mental-health professionals shortage, it becomes difficult to get professional help.
One of the many factors that have a very important role in determining how students cope with despair is the family background. The families which have a positive atmosphere and remain happy suffer less from depression whereas the families which have negative and ruined environment posses a bad impact on the young people leading to more depression. This is another chief reason apart from failure in academics and unemployment according to the co-founder of Enfold India NGO, Shaibya Saldanha. The suicides on students are becoming increasingly common in Kota, Rajasthan as this state experiences a shadow education system. Students get pressurize to achieve unrealistic goals by studying in commercial coaching centers which promise guarantee success in professional entrance exams. This makes students unable to cope with failure and anxious about letting their family down. Therefore, they end up giving up by taking their lives.
These incidents showcase poor relationships with parents who have excessive expectations from their children. This expectation creates a feeling of being unwanted and poor understanding of their peer/romantic relationships. All these factors contribute to the impulsive action that the young person take. According to a study in 2016, those students who opt for social science and humanities performed poorly in examinations, or those who came from disadvantages or helpless families have reported higher rates of depression.
Financial issues have also dominated the reasons for suicide. In 2015, the number of suicide victims was about 70% who have an income less than 100,000 Rs per annum. Currently, India spends only 0.06% of its health budget on mental health which is even less than Bangladesh. Whereas most developed nations spend more than 4% of their health budget on mental-health research, frameworks, infrastructure, and talent pool. This report is given by the World Health Organization in 2011. These suicide incidents of students have drawn the attention of celebrity campaigners and policymakers. On 27th March 2017, Prime Minister Narendra Modi in his Mann ki Baat radio speech urged Indians to reveal and start doing conversation about their depression. He requested them to seek help when needed. In response to Bharadwaj's suicide, actor Anupam Kher shared his email ID with everyone on Twitter to invite young people to talk to him if feeling depressed.
Indian universities still lack counseling centers when they should be given utmost importance after viewing the increased number of suicides. Trained counselors and psychologists are required to assist students who are suffering from depression or those who are at the onset of emotional and mental problems. These services will help them so that they don't spiral into full-fledged clinical depression leading to suicide.
By: Preeti Narula